Donna Michele Criqui
Donna Michele Criqui passed away at William Childs Hospice House in Palm Bay Florida on October 30, 2020 at 11:46pm at the age of 73.
Donna is survived by her daughter Julia Criqui Matura.
Donna is lovingly remembered by her daughter, Gunnery Sergeant (USMC) Julia Criqui Matura and son-in-law Master Sergeant (USMC) Aaron Matura grandchildren; Izabella Matura (6) and Aria Matura (3) of Okinawa, Japan.
Donna was born in New York on May 30,1947.
Donna has worked as a waitress for various country clubs in Ft. Lauderdale, Fl and a cashier for Publix for the past 15 years in Brevard County.
Donna enjoyed loving people, taking care of her beloved Jazzy and Bunky. Donna loved to go to lunch with her friends especially Robin, Donna took so much pride in her family and loved to share their story with all who knew her and did not.
The celebration of life gathering will be held at (Donna's House) 5340 Frederick Ave Melbourne Florida, 32904 on November 14,2020. From 2-6pm everyone is welcome to come no matter how well you knew her.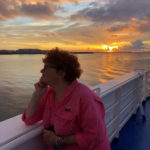 Contributions can be made to Julia Criqui at the celebration of life ceremony for a memorial that will be located at William Childs Hospice House, a stone will be placed on their walkways in Donna's honor. The remaining balance of the contributions will be donated in Donna's name to the hospice house that took phenomenal care of her the last 48hrs of her life.
Condolences for the family may be made to Julia Criqui at [email protected]
2 entries.
Goodbye my dear friend. I will miss our brunches, drinks after work, sharing pictures and stories about our children and grandchildren, and your cute holiday texts. Most of all, I will miss your constant smile and loving nature. Life will not be the same without you. Thank you for touching my life. I will remember you always and can't wait until we meet again.
Mom, I will miss you for the rest of my life and love you always. We will live and thrive in your honor, because I know you would want that. No one loves you more than me. Love you mommy, Love Julia xoxo