Donnie Londini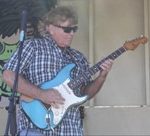 Born in Detroit, Michigan on April 10, 1953
Departed in Rockledge, Florida, on June 5, 2019
Donnie Londini, age 66, passed away peacefully on Wednesday, June 5, 2019. Surrounded by his dear wife Cindy, daughters Alayna and Anna Londini, brother David Londini and sisters Carole Wright and Lisa Londini. Donnie was a music extraordinaire as everyone knew him through Solar Eclipse and Londonink. He had a passion for his family, the beach, surfing, his guitar and living life through the simple pleasures. Donnie had an exceptional ability to reach people in a deep and positive way. His smile and presence uplifted all that surrounded him. "Love, strength, faith and unity" were his words he lived by. "Love the life you live. Live the life you love." -Bob Marley.
3 entries.
We are saddened and heartbroken for your tremendous loss. May the Lord comfort you as only He can. Love and Prayers, Suzanne & Rick 🙏🏻❤️🙏🏻
Sad to hear that you left us so early, Dannie. I will always remember when you and Cindy were there for me when I was down and out, gave me a place to stay and picked me back up. Your friend, Degory
We will truly miss Donnie. His joy through music will always be remembered.