Doris Mary Kelly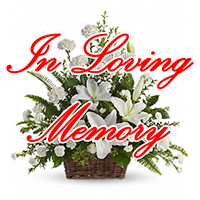 Born in Bergen, New Jersey on August 1, 1927
Departed in Melbourne, Florida on March 11, 2019
Doris Mary Kelly, 91, of Melbourne passed away on Monday March 11, 2019. She was born in Bergen, NJ, was a Veteran of the US Army Nursing Corps in WW II and moved to Melbourne in 1959, she retired as a Registered Nurse. She was a member of Our Lady of Lourdes Catholic Church and the Florida Tech Chapel.
Survivors include her sons James (Lee) and Thomas, daughters Eileen (Kenneth) Petrie and Lorraine (Steven) Totty, 9 grandchildren and 10 great-grandchildren, sister Anne Karrenberg.
A Mass of the Resurrection will be celebrated on Saturday March 16th at 1:00pm in The Our Lady of Lourdes Catholic Church with a reception in the Parish Hall following the service.
Donations in her name may be made to the Central Brevard Humane Society,
3 entries.
I'm so sorry for your loss. I'm sure that he will be greatly missed. It's wonderful to know that our loving Heavenly Father has promised to resurrect our loved ones who we lose to death at John 5:28,29. I pray you receive the comfort you need during this difficult time. Jw.org
We are so sorry for your loss. We know you have many memories to cherish. Prayers for your family. God bless you all! Sending our love.
My brother Richard Madden and I are saddened by the passing of Aunt Doris. She was a lovely lady and I will always remember her generosity in hosting, with Uncle Jimmy, my parents' John and Miriam Madden's winter vacation in Florida for many years. Good people, good memories. Love and condolences to you all.