Dorothy Culbertson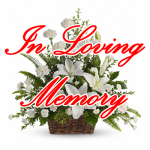 Born in Belfast, Northern Ireland on January 25, 1932
Departed in Satellite Beach, Florida on September 9, 2019
Dorothy Culbertson passed away peacefully at her home in Satellite Beach on September 9, 2019 at the age of 93.
Dorothy was born and raised in Belfast, Northern Ireland.
She was preceded in death by her parents John and Mary Sames, her husband Paul O. Culbertson, her sisters Gladys Little, Annie Smith, Olive Rhodes and her son-in-law Jimmie Kaminski.
She is survived by her children Susan (Joe) Reynolds, Bill (Leslie) Culbertson and Mary Kaminski, her grandchildren Kyle Kaminski (fiance Rachel Almeida) , Katie Kaminski, Paul N. Culbertson and Dana Culbertson, her brothers Jack (Maureen) Sames, Jim (Joanne) Sames and her half sister Trixie Twigg.
Dorothy met and later married her husband, Paul in Germany. He was a member of the USAF and was stationed in Germany. She was a stay-at-home mom and accompanied her husband to several military bases within the US and overseas (Newfoundland and Japan). Their final assignment was at Patrick AFB, Florida where Paul retired after 30 years of military service.
She was a long-time member of Eastminster Presbyterian Church community. Dorothy volunteered as a money counter, served as a committee member for the church newsletter, and assisted many summers at Vacation Bible School. Her last volunteer position was receptionist at Eastminster. She was gracious with her time and kind with her words.
Dorothy loved to bowl. She was a voracious reader, and a very talented knitter.
She was well loved by her family and friends. Dorothy had a quick wit much appreciated by all who came in contact with her. She was grateful for what she had in life and was quick to say "We aren't grateful enough" when she saw someone less fortunate than her. She will be greatly missed.
Dorothy's ashes will be interned in the Memorial Garden at Eastminster Presbyterian Church and her memorial service will be at Brownlie-Maxwell Funeral Chapel on Saturday, September 21st at 2:00pm.
In lieu of flowers, the family requests that memorials be given in her name to Hospice of St Francis (www.hosffoundation.org) And Brevard Alzheimer's Foundation (brevardalz.org).