Dr. Howard Phillip Winton D.O.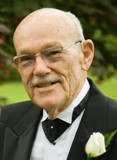 Born in Springfield, Missouri on June 23, 1925.
Departed in Melbourne, Florida on April 8, 2018
Dr. Howard Phillip Winton D.O., 92, died quietly after more than a year of health problems on Sunday, April 8th, in Melbourne, Fl. Born in Springfield, Missouri, he was the son of the late George LeCompt and Emma Pearl (Schoonover) Winton. After serving in the Navy in WWII, Howard enrolled in college graduating in 1949 from Northern Illinois College of Optometry. He opened a practice in Melbourne and became involved in the community.
As President of the Melbourne Rotary Club he was instrumental in having Rotary International charter the Melbourne High School Wheel Club as the first Interact Club in the world. He was a Paul Harris Fellow. Howard was also President of the Melbourne Chamber of Commerce.
In his career Howard was Life Emeritus Fellow of the Academy. He was named Florida Optometrist of the Year and also served as President of the Florida Optometric Association. On the National level he became 54th President of the American Optometric Association giving him an opportunity to speak and travel throughout the US and make an impact on the organization.
He loved life and traveled around the world, literally, twice, climbing the Pyramids when it was allowed, visiting the Taj Mahal and walking Machu Picchu. He drove his RV all over the US. At 88 he took another trip to Russia. At 89 he wanted to see the tulips bloom in Holland and so took a trip.
Always a smile on his face, he will be fondly remembered for his quick wit, kind heart and easy-going disposition. Howard will be sorely missed by the lives he touched. Survivors include his longtime love, dancing and traveling partner Michele. He was predeceased by a daughter, Susan Winton, his brother and two sisters.
Services were private. Burial was at Cape Canaveral Cemetery with Navy honors. Celebrate Howard through your favorite charity.
1 entry.
Dr Winton was my inspiration to become an eye doctor. He was father to my best friends, the whole gang from Caroline to Gary, Steve, James, and Susan - I miss you all.