Dr. John Charles Lawrence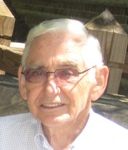 Born on August 3, 1931 in Citronelle, Alabama
Departed in Indialantic, Florida on January 9, 2020
Dr. John Charles Lawrence formerly of Toccoa, Georgia passed away Thursday, January 9, 2020 at the home of his daughter, Ginger Burton. He was 88 years of age.
A son of the late Rev. Robert Isaac Lawrence and Nettie Lou Bradley Lawrence. Dr. Lawrence was born August 3, 1931 in Citronelle, Al. He graduated from Blountstown High School in 1945 followed by Huntington College in 1953. He served in the Army from 1954-1956 . He went on to Emory University In Atlanta, Georgia where he completed his Doctor of Medicine Degree in 1965 followed by his residency at Georgia Baptist Hospital in Pediatric Medicine completed in June of 1968. Dr. Lawrence began his pediatric practice in Toccoa, Georgia in 1970. In addition to his parents, he is preceded in death by a brother Robert Mott Lawrence and sister Peggy Ann Stewart.
Dr. Lawrence is survived by his three children, Allyson (Al) Carter of Baldwin, Georgia, Ginger (Chris) Burton of Melbourne, Florida and John Lawrence of Phoenix, Arizona as well as their mother, Mary Diane Tomlin of Toccoa, Georgia. He is also survived by ex-wife, Audie Lawrence of Rabun Gap, Georgia. Surviving siblings include Mary Elsie Beall of Gainesville, Florida, Carolyn Bradley Oakes of Melbourne, Florida, William Lex Lawrence of Bellwood, Alabama and Lunnie Virginia Reid of Birmingham, Alabama. Dr. Lawrence is also survived by three grandchildren, Anna Burton, Chase Burton and Charles Carter.
Dr. Lawrence has donated his body to the University of Central Florida School of Medicine. There will be a celebration of life service at a later date. In lieu of flowers donations may be made to www.brevardrescuemission.org in Melbourne, Florida or www.faith-inc.org in Toccoa, Georgia.
11 entries.
I worked with Dr. Lawrence in the pediatric department at Toccoa Clinic. He was a wonderful physician and a great friend. My thoughts and prayers are with the entire family.
I love my brother and cherish our times together. I know our God has welcomed John into His loving arms
God bless your sweet father and your family Ginger! He was one of the nicest people I have ever met and I can see his light shine through you! Prayers are lifted for his departed spirit into Heaven! Love you
A life well lived! I love you Uncle Johnny.
Our thoughts and prayers are with you all. One of the finest man we have known. He was my oldest daughters DOC. He will be missed.
Allyson, Ginger and Johnny thoughts and prayers with love for you all. I know you will miss your Dad but will see him again someday. I'm sure you 3 made him proud. His memory and love will forever be in your heart.♥️
This Tonnie Combs Merritt, Perez Combs sister. I love you all n I'm praying for God to comfort you and keep you n his care today, tomorrow and days ahead
Ginger, Allyson, and John, My thoughts and prayers are with all of you in the loss of your father. He was a wonderful person and my family and I loved him very much. He was our pediatrician and he made a house-call when Zane was very sick. I can go back to that day in my mind because it meant so much to me. I know you were proud to call him your father. My dad and I would see him at the Walmart in Clayton when he was a greeter and loved running into him. He always had a smile. Just want you all to know we share in sadness of your loss.
Ginger, my prayers go out to you and your family in this time of loss and uncertainty. I have seen bits and pieces of your journey over the years and I have to say that your faith and love are admirable. Losing a parent is the hardest thing ever. Especially those that make such an impact on our lives. And all I can do is pray for your peace and continued faith in a God who loves beyond our understanding. May your dad Rest In Peace and hold onto the love he brought to you in this world and know that your paths will cross yet again. Until then hold onto your precious memories. Love to you and your family always and forever. ???
His obituary was very nice. He will be missed a lot.....he was loved by so many .
Praying for Peace and Comfort!! What a special act of kindness to have some donations going to Faith Child Advocacy Center for children who have been abused!! We love you and your family!!