Edgar B. Thompson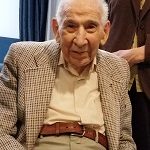 Born on November 24, 1920 in Detroit, Michigan
Departed in Melbourne Village, Florida on March 27 2020
Edgar Bernard Thompson was born on Nov. 24, 1920 in Detroit, Michigan, the oldest of three boys in his family. His family moved and he grew up in Ridgefield, New Jersey, a small town not far from the George Washington Bridge to New York City. He was a Boy Scout and a Sea Scout who learned sailing.
After high school graduation, Ed worked for McDonnell Douglas aircraft in California. During WWII, he enlisted in the Army Air Corp (Air Force). In his home town, he had met his future wife, Margie in a Christian college/career group called "Christian Endeavor." He persuaded her to pack up her wedding gown, and she spent 36 hours on a train so they could get married on a 3-day pass while he was temporarily stationed in Texas. After the war, he went to college on the GI bill. He went into the electronics field and, over his career, held positions with several high-tech companies.
Ed was a man of many talents. He built a sailboat the family sailed for years. He was a photographer who developed photos in a dark room. He became a private pilot with a commercial instrument rating. He played the piano and had a very good baritone voice and sang in church choirs. He was a scholar who studied biblical Hebrew and Greek and wrote theological position papers, such as the Incarnation of Jesus Christ. He built radio controlled airplanes, joined a local model airplane club, and flew his models in Valcaria and Viera. He was a DIY (Do-It-Yourself) expert who could do or fix almost anything.
Ed and his wife moved to Melbourne Village in 1979 from Massachusetts. They built two additions on their home and enjoyed their property with grapefruit and orange trees. He was elected and served two terms on the town's AHF Board of Trustees. He retired from Storage Technology before the company moved from Palm Bay to Colorado. The company kept him as a valued employee before their departure date. When his wife was diagnosed with debilitating diseases, he showed his love by becoming her kind and faithful caregiver for many years until she passed away in 2006.
Ed was preceded in death in 2006 by his wife of 60 years, Margaret. He is survived by his daughter, Shirley L. Thompson of Palm Bay; son, Douglas A. Thompson of Melbourne Village; many nieces and nephews in Florida and throughout the United States.
At age 13, Ed had received Jesus Christ as his personal Savior. The Scriptures were very important to him and, in his twenties, he memorized Psalm 91 which he recited constantly. Later in life, he memorized Numbers 6:24-26, "The Lord bless you and keep you; the Lord make his face shine upon you and be gracious unto you; the Lord lift up his countenance upon you and give you peace" and then he added, "by the blood of His cross." He recited this blessing everyday over his children. When caregivers came into his home, he recited it over them too.
He was an active member and retired deacon of Heritage Baptist Church in West Melbourne, who affectionately nicknamed him "Mr. Ed." During his life, Mr. Ed had a heart for others to hear the gospel that saved him for eternal life. He did this by handing out tracts for over 70 years, giving his personal testimony, participating in the church's outreach activities, and supporting missions. He leaves a legacy, and will be greatly missed by his family and friends.
2 entries.
I am a niece of Uncle Edgar. I have not had the privilege to get to be around Uncle Edgar very much but I know from my Dad Robert Thompson , Edgar was a very gentle and loving person. I pray the Lord will comfort and keep your life's in His tender care. ?
I have known Edgar for many years through his daughter, Shirley. Over the years during frequent meetings to review Shirley's investments, she would bring her Dad, Edgar to our meetings. He always had a smile and a kind word. The "Joy of the Lord" would always be an important part of our visits. I consider it a privilege to count him as a friend and Brother in Christ.