Elizabeth Eaves Hipps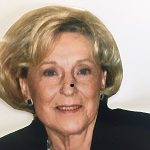 Born on March 23, 1930 in Decatur, Georgia
Departed in Melbourne, Florida on March 5, 2020
Elizabeth "Bette" Eaves Hipps, born on March 23, 1930 in Decatur, Georgia, passed away on March 5, 2020 in Melbourne, Fla. The daughter of Etta and Robert Eaves and sister to Dr. Robert Eaves, Jr. she grew up in Tucker on a homestead where the family had flower and vegetable gardens, fruit trees, beehives and various animals. Bette's love affair with nature began in this setting and continued for the rest of her life. Her devotion to nature and her deep respect for all living creatures was a gift she gave to her own children: Claudia Marra, Joan Sorensen (Scott) and Chris Hipps (Sandra).
In 1948 she left Tucker, Georgia to attend the University of Georgia where she studied zoology. It was at college that she caught the eye and the heart of a handsome student who was on the football team- Claude Hipps. Claude and Bette were married in 1950 and were best of friends for over 67 years until the death of her dear Claude. It was a love story that, by example, showed their kids how a deep commitment, an abiding faith in God and enduring friendships set the ground for a strong marriage.
Bette had a real knack for style, whether it was in her clothing, her home, a table setting or a flower arrangement. She believed that the little touches made life richer.
Bette was a skilled golfer, a devoted tennis player, an avid gardener and a voracious reader. Her athleticism linked well with her love of nature, and hiking became one of the activities that brought her unbounded joy. Throughout her life she and Claude would plan trips so the whole family could meet for hikes and a game or two of tennis. She knew the names of almost every flower and tree, and if she didn't, she would refer to the Audubon Field Guides she always brought on hikes. Going on a walk with her was a lesson in "paying attention" and appreciating the beauty of the things around you. Nature was God's art gallery and she never tired of visiting.
She volunteered her time teaching adults and children to read, serving Meals on Wheels, acting as a docent at the Columbus Art Museum and working in the plant nursery at Callaway Gardens. She flourished when in the service of others.
Bette and Claude deeply loved their four grandchildren Elizabeth Oatley (Ben), Chris Sorensen (Marguerite), Hutton Beckcom (Ian) and Chris Hipps, Jr. (Grace) and their grandchildren were equally devoted to them. Also cherished were their great-grandchildren Madison, Andrew and William Oatley and Scotty Sorensen.
Bette touched so many lives with her kindness and in her own quiet way she impacted her family, community and world for the better.
Friends and family will gather for a celebration at a later date.
6 entries.
A beautiful person inside and out! Bette and Claude were two wonderful people and will be missed by many!
Our thoughts and prayers are with you all. What a beautiful tribute you have written for dear Betty and what a beautiful family she and Claude created. We were blessed to have known them. We love you all dearly...
Sorry to hear of Aunt Bette's passing. She and the entire family will be in our thoughts and prayers. Love to all. Jack and Stacey Hipps
Good memories at all our family reunions! Sorry I cannot be with y'all to celebrate her life!
What an honor it was to have her for an aunt. She will be in my heart forever. She was a lovely classy lady!
Dear Joan, I never met you Mother but I enjoyed reading about her...you were truly blessed.