Ethel P. Kish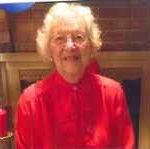 Born on January 16, 1919 in New Castle, Pennsylvania
Departed in Palm Bay, Florida on December 21, 2019
Ethel P. Kish, age 100, passed away peacefully on Saturday, December 21, 2019 in Palm Bay, Florida.
Ethel was born in New Castle, Pennsylvania, the second daughter of Reverend Gabriel Petre and Julia Balogh Petre. She spent her childhood in Cleveland, Ohio. She lived her adult years in New York State and Connecticut with her husband of 67 years, Ernest J. Kish, before coming to Palm Bay, Florida in 1973.
Ethel had a full working career at Chance Vought Aircraft and Heim Universal Bearing Corporation in Connecticut before coming to Palm Bay to serve as co-administrator of the Bethesda Baptist Retirement Home.
Ethel was very active in many volunteer organizations throughout her life and the Bethesda Baptist Church of Palm Bay. She was a lifelong member of the Hungarian Baptist Convention, serving as Missions and Aid Director. She was a wonderful cook and an avid world traveler with her husband.
Ethel was predeceased by her husband, Ernest Kish, her sisters, Esther Plyler, Isabel Sada, Helen Schoper, and her brother, Gabriel Petre. She is survived by her brother, Gene Petre of Cape Canaveral, Florida; her son, Calvin Kish and daughter-in-law, Nancy Kish of Trumbull, Connecticut; her granddaughter Jessamyn Bergin and great-grandson, Daniel Bergin of Middletown, New Jersey.
A service of remembrance will be held later this spring. Those who wish to remember Ethel with a gift are asked to consider a donation in her honor to the Bethesda Baptist Church (2810 Fordham Road NE, Palm Bay, Florida 32905) or the Hungarian Baptist Convention (2636 East 124th Street, Cleveland, Ohio 44120).