Eugene L. Zuch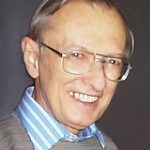 Born on January 11, 1936 in Cincinnati, Ohio
Departed in Melbourne, Florida on April 15, 2020
Eugene L. Zuch, 84, of Melbourne went to be with his Lord and Savior Jesus Christ on Wednesday, April 15. Gene was born to Raymond and Gertrude Zuch on Jan. 11, 1936, and raised in Cincinnati. After high school, Gene went to the Massachusetts Institute of Technology on a full scholarship. He received a bachelor's degree in electrical engineering in 1958. After graduation, he served 3 1/2 years as a US Army Signal Corps officer stationed in Fort Monmouth, NJ; Fort Huachuca, AZ, and Butzbach, Germany.
After the army, Gene returned to MIT to work at the Charles Stark Draper Laboratory and also complete a master's degree in electrical engineering and a bachelor's degree in management from the Sloan School of Management. He then went into private industry and worked for a number of small electronics companies in Massachusetts and South Florida. He retired in 2005, shortly before his 70th birthday.
In 2003, he married Virginia Provencher and relocated to Melbourne. They were married for nearly 16 years before her death in 2019. Gene was an amateur cartoonist, an avid reader of the Wall Street Journal, and — above all — a man who devoted his life to Jesus Christ.
Gene is survived by his step-daughters Majorique Glass of Coral Springs, Joanne (John) Beyke of Port St. Lucie, and Danielle Provencher of Lake Worth; step-grandchildren Joshua Beyke of Gainesville, Johnathan (Fumei) Beyke of Mililani, Hawaii, Cameryn Glass of Deerfield Beach, and Jordan Beyke of Fort Pierce; his step-great-grandson Clayton Kodetsky of Fort Pierce; and his nephew Todd Von Zuben. He was predeceased by his step-grandson Aaron Glass.
A memorial service will be held at Trinity Wellsprings Church, with inurnment at Ascension Catholic Church, where his ashes will lie next to those of his beloved wife Ginger.
Memorial donations may be made to Trinity Wellsprings Church, Satellite Beach.

3 entries.
My dearest Gene, You are missed, and I think about you often. My life has been easier in many ways. Now I am searching for my meaning; love is a beautiful gift. Thank you for loving my mother, myself, and my children. Please rest with our God who you love so deeply. Your daughter, Joanne Beyke
I also knew Gene through the Park Street Church Grad Group and some of the ecumenical Christian groups at MIT. Gene was always a cheerful and friendly guy. He got his B.S. the same year I got my M.S. in meteorology. It was encouraging to learn of his career accomplishments afterwards and his lasting commitment to Jesus. May he rejoice with the saints in Heaven and may the Lord comfort his friends and family left here on earth.
I knew Gene as a member of Park Street Church Grad Group in Boston. He accomplished so much in his life. I rejoice that he knew Jesus Christ so intimately. Peace and comfort to his family.