Evelyn Annas
Evelyn Annas, succumbed to complications from the Covid-19 Virus on Sunday at Holmes Regional Medical Center in Melbourne, FL.
Originally from Holyoke Mass, Evelyn had been a Central Florida resident for over 40 years, the last 25 in Brevard county. She had a love for life and a passion for socializing with friends and family, always looking for joy and some humor in every encounter. This was exceeded only by her faith in God, and love for the Greek Orthodox religion. She frequently prayed and usually for the care those friends and family around her. The last 4 years, Evelyn resided in Long-Term care at Melbourne Terrace following a debilitating stroke in 2016.
Evelyn is survived by her 4 nephews: James, Stewart, John, and Nicholas Kamenelis; and grand nieces and nephews: Jason, Heather, Josh, Mia, Caitlin, and Sean Kamenelis. She adored them all and asked about their well-being and their families every day. The highlights of the last 4 years included visits from many of them, and a visit last year from her 2 yr. old great-grand nephew Theodore and family; and regular visits with nephew James and adopted niece, Nancy May.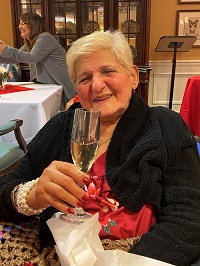 Due to the Covid-19 Virus, no funeral services are planned. And on behalf of Evelyn we Pray for everyone's health and safety. And a special note of gratitude for the great folks at Melbourne Terrace who became her family for the past 4 years."

1 entry.
My deepest sympathy to the family of Evelyn Annas. We talked and joked on the phone alot and before the covid, visited together. She was so cheerful and would tell me she was fine, even when she wasn't well. She had hope and faith, always. Years prior to her stroke, we would visit each other at our homes and also go out to eat at Applebees and /or Olive Garden, where she had worked as a Hostess. She went to St Katherine's Greek Church and also was in the Choir at one time. Evelyn knew many people at Church, at her apartment, and later at the Nursing home. She loved my cat, Panda ,too. She spoke often about her family, especially her mother who lived with her, and her nephew Jim, whom watched over her for many years. Evelyn was alert and observant and a good talker even near the end when she had trouble with her words. Many times we discussed religion and she spoke often of The Holy Spirit. Often she would say she loved me, and I would say I loved her. God Bless you, Evelyn, in Heaven above. Your dear friend, Vangie