Ferdinand W. O'Donnell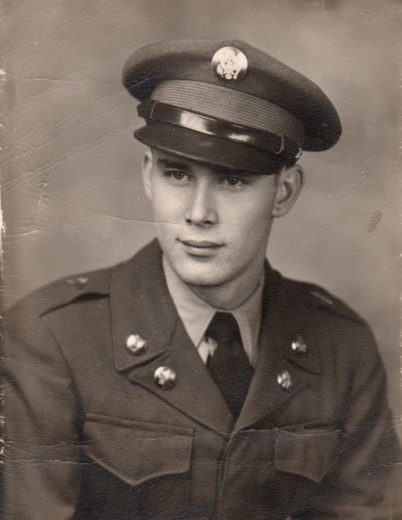 Born October 13, 1929 in Minneapolis, Minnesota.
Departed on December 21, 2020 in Cocoa Beach, Florida
Ferdinand W. O'Donnell, "Fred", of Merritt Island, FL, aged 91 was born to Rita and William O'Donnell of French and Irish heritage in Minneapolis, MN in 1929 and grew up during the depression in a Polish neighborhood sprinkled with Irish, Italian and all manner of ethnicity. He acquired a deep appreciation for all cultures. After a year of being a dean's list college student with a scholarship offer, Fred changed his mind and joined the US Army where he would journey across the world, shape young troops, guide and mentor them through the hells of war and through peacetime. He would do that with his first true love, Glenys Olson of Odin, MN whom he met shortly after joining the military. Fred quickly took all the money he had saved up for that really cool car and bought a diamond ring instead. He was not letting her get away. They married in 1958 and had two daughters whom they intensely loved and thoroughly enjoyed raising; Brigette Jandreau and Shelley Songer. With Brigette and Shelley came sons-in law that Fred loved as his own sons; Michael Jandreau, Jose Aira and David Songer and grand son-in law, Art Bekkozhin.
Did you know that Fred:
• Was a spy, intercepting and listening in on Russia during the cold war…living a life we only see in the movies.
• Coached a military basketball team, winning a trophy for his military base (Kassel-Rothwesten, Germany)
• Square-danced his way through 'enemy' territory as cover for a NSA clandestine mission that he can't talk about or he'd have to kill you
• Was a self-taught guitar and piano player, musician and singer-of-songs
• Was an artist from a young age, painting in oils and then in watercolor later in life.
• Was an animal lover; raising birds, dogs, and even a pet squirrel that had the run of the house
• Was a Shriner for many, many years, a 43 year Master Mason, and long-time member of the Elks on Merritt Island where he cherished many close friends
• Ran circles around younger folks playing tennis, and loved to golf and fish.
• Was a chef, always claiming to have taught his wife, Glenys how to cook!
• Managed the "Mohawk", renowned supper/nightclub by night in Shirley, MA where even Aerosmith played before their rise to fame.
• Was an amazing jitterbug dancer
• Was a card shark, masterful poker play (calculating the odds/statistics in his head with 6 card decks at play), and skilled pool player…earning a few bucks on the side
• Commandeered a tank during wartime where he astonishingly found it full of beer! His troops especially appreciated him that day
• Developed lifetime friendships in MA (Barb and Pete Gorski, Tom and Connie Calhoun, and Phyllis and Norm Vasselin) with whom they went on camping trips, kids an' all, among their other crazy escapades. Time and distance never got in the way. Those friendships began in 1959 and span over 60 years.
• Could be stubborn, ornery, yet gregarious and hilarious all at the same time! Just ask Chili and Cindy; Red and Sue; Bill and Bernie; and many other treasured family.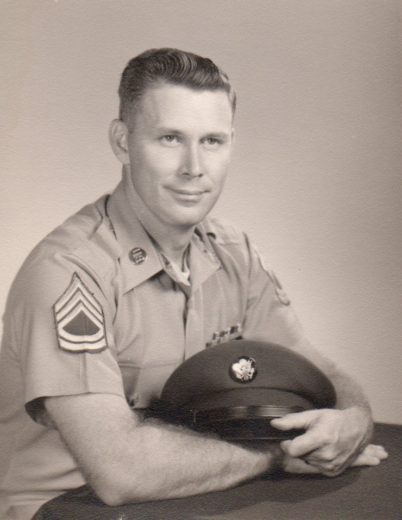 Fred fiercely loved the women in his life. Fred had 50 wonderful years with Glenys before she passed in 2008. But being an avid fan of the feminine persuasion, he eventually met and married Carol Emrich while in their late 80s, and began their life together. Their marriage celebration rocked well into the night with music, food, and a whole lot of folks. From that marriage, Fred gained two step-daughters, Pam McClenahan and Carla Emrich who called Fred her "Daddy-O". Fred and Carol had 8 great years together before Carole passed in 2017.
Fred was also just as amazing a grandpa as he was a husband and father. He adored his grandchildren; Jazmine Aira, Logan Aira O'Donnell, Brooke Jandreau, Brandon Aira, and Beau Jandreau who preceded him in death in 1997. And most recently, Fred got to meet and so happily enjoyed his great-grandchild, Ezrah Bekkozhin.
Fred was a Renaissance man, a teller of tales, singer of songs, and knew how to tell a great joke. Where ever people gathered, you can bet he had everyone's attention…had them laughing, and inspired them through his life's stories and insights. Although Fred lived life with zest, he absolutely understood what was most important…the simplicity of living a life with those he loved. For all of us, life will never be the same without Fred.
A burial will be held at the Cape Canaveral National Cemetery with military honors in the near future.
5 entries.
I have known the O'Donnells since I was a child in the 60's as my mother was close to them. I am sad to hear of Fred's passing as well as the passing of Glenys. I often recall our stay with them on Merritt Island back in the late 70's and enjoying Fred's meals off the grill. My very sincere regards to both Shelly and Brigette and their families.
Fred was always one of the most fun people I have ever met. I will always remember his card shark abilities. Wishing the best to Shelly and Bridget and their families.
Sweet wonderful man. RIP!
Rest In Peace . You were very loved.