France Georgette Lloyd Voss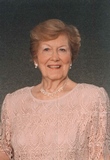 Born in Akron, Ohio on May 20, 1920.
Departed in Melbourne, Florida on September 25, 2018
France Georgette Lloyd Voss
France Voss died on September 25, 2018 in Melbourne, Florida. France was a native of Columbus, Ohio and daughter of Daniel T. and Andree Lloyd. She was preceded in death by her husband, Dr. Harold E. Voss, her brothers Robert G. Lloyd and Harry G. Lloyd. She is survived by her son Dr. Harold L. Voss and his wife Anne of Palm Bay, FL and their children, Daniel Voss and his wife Heather of Mt. Airy, MD, Jordan Voss and his wife, Amy of Canal Winchester, OH, and Sarah Wagner and her husband Jeffrey of Saline, MI; and her son Rodger L. Voss and his wife Diana of Albany, NY. She was preceded in death by her son Donald A. Voss and survived by his wife Dyana and his children Stacey L. Sundarrajan and her husband Ashwin of Oakland, CA and Ashley G. Voss of Columbus, OH. France is also survived by her sister Viviane Avant and her husband JW of Charlotte, NC and many nieces, nephews and great grandchildren.
A memorial service will be held Sunday, October 7, 2018, 3:00 pm at Presbyterian Church of the Good Shepherd, 810 West Florida Avenue, Melbourne, FL. The family will receive guests following the service in the Fellowship Hall.
A second service will be held on Saturday, October 27, 2018, 3:00 pm at North Broadway Methodist Church, 48 East North Broadway, Columbus, OH. The family will receive guests following the service.
France graduated from Litchfield High School in Litchfield, OH and attended The Ohio State University. France and Harold were married on May 10, 1942 and lived in Columbus, Ohio following Harold's service in Europe in World War II. France was an active community volunteer in Clintonville Women's Club serving as president in 1967-1968, Methodist Youth Fellowship Advisor, The Ohio State University Alumni Association serving as 2nd Vice President, Starling-Ohio serving as president 1979-1980, Buckeyes Boys Ranch Women's Board, March of Dimes Board, Ladies Oriental Shrine Clown Unit. She was an avid supporter of the arts as a member of Melody Unit of the Columbus Symphony Orchestra and serving as chair in 1982-1993, Beaux Arts of Columbus Museum of Art, Brevard Symphony Orchestra South Guild organizing card parties and Culinary Capers, and as a docent at the Foosaner Museum of Art (formerly Brevard Museum of Art) in Melbourne, FL. France was also an artistic painter and sculptress and talented actress acting in productions in local central Ohio television, Village Little Theater, Vaudvillities Clintonville Women's Club, and Port Malabar Country Club. She was particularly known for writing original lyrics to well-known melodies honoring/feting friends and family for almost any occasion.
In lieu of flowers, donations can be made to the Clintonville Women's Club 3951 North High Street, Columbus, OH or to The Presbyterian Church of the Good Shepherd, 810 West Florida Avenue, Melbourne, FL.
Her sense of humor and love of family and friends will be missed by many.
Arrangements by Brownlie & Maxwell Funeral Home, 1010 Palmetto Avenue, Melbourne, FL.
2 entries.
We appreciate receiving notice of her passing. Though I did not know her, she obviously was an amazing woman. We will share the news with other members of Clintonville Woman's Club. My prayers are with you.
Just being in my Mothers presence I am a better person. I get it honestly through her.