Gary M. Conrad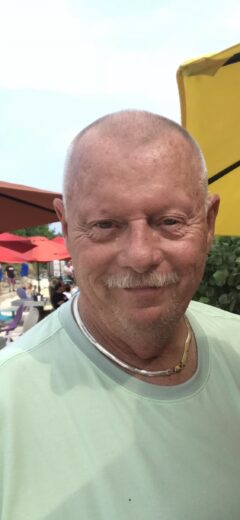 Born on March 9, 1949 in San Francisco, California
Departed May 26, 2023 in Kissimmee, Florida
Gary M. Conrad, 74, was born in San Francisco, California on March 9, 1949 to Robert Eugene and Betty Lois Mentzer Conrad and passed away on May 26, 2023 in Kissimmee, Florida.
He retired as a general manager for an automotive dealership. He was a United States Navy Vietnam Veteran and member of American Legion Post 117 in Palm Bay, Florida.
Gary is survived by his wife Dahlia Conrad; daughter Cara Dark; twin sons Gregory and Christopher Conrad; daughters Nicole Koebernik and Eneka Burgess;
son Jhovan Marshall; 11 grandchildren; twin sister, Terry Walter and a host of extended family and friends.
Family and friends may call for visitation on Friday, June 16, 2023 from 10:30am until the time of his service at 11:30am at Brownlie-Maxwell Funeral Home, 1010 E. Palmetto Avenue, Melbourne, Florida. Burial, with United States Navy honors, will follow at 2:30 pm at Cape Canaveral National Cemetery, 5525 Highway 1, Mims, Florida 32754.
>