Georgiana Dawn Kazlun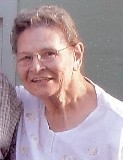 Born in Chicago, Illinois on February 21, 1932
Departed in Melbourne, Florida on February 25, 2019
Georgiana Dawn Kazlun, 87, passed away on February 25, 2019 in Melbourne, Florida. She was born in Chicago on February 21, 1932 to George and Evelyn Janzen. She grew up in Chicago and moved to the northwest suburbs of Chicago after her marriage to her husband, Jerry. Georgiana and Jerry were married for over 40 years and shared a wonderful life together. After retirement they moved to Melbourne Beach, Florida where they enjoyed camping, fishing, and relaxing in the warm weather together. Georgiana was admired for her kind heart and always wanting to help those in need. She had an amazing mind and could engineer a fix for any problem around the house. (Recently she was at the workbench, fixing a bent screen in the vice.) She attributed these skills to growing up with 3 brothers and a fix-it-all father.
Georgiana also was admired for the beautiful and compassionate care she gave to her husband, Jerry, who suffered a long illness.
Georgiana is pre-deceased by her husband, Jerry, and two brothers, William and Herbert. She is survived by her brother Donald(Anita). She will be missed by her step-daughter Annalisa(Tom) Barrie, grandchildren, Thomas and Grace, sister-in-laws Sue Janzen, Anita Janzen and Geri Janzen, and many beloved nieces, nephews and friends.
Anyone wishing to make an expression of sympathy is asked to make it to the Salvation Army.
3 entries.
You will be missed deeply! Love you
Our hearts are heavy and sad as this world has lost a beautifull woman. You and Jerry can now bask together hand in hand in the glory of eternal peace and happiness. We will miss our long phone conversations and will always hold close the wonderful memories we have when you lived next door to us in Ingleside. As I sip on my ice tea this spring and summer I will raise my glass up over to the stoop in the distance where we use to sit and share a tea and conversation, remembering you. Our sympathy and prayers go out to your family. Until we meet again dear friend ...rest in his loving care♥️
Georgie and Jerry were a wonderful team. They enriched everyone's life that they touched. I know that they are happy to be reunited, but they will be missed beyond belief.