Gerald Eugene Einem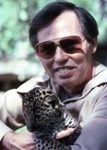 Born on February 9, 1927 in Milwaukee, Wisconsin
Departed in Palm Bay, Florida on January 21, 2020
Gerald Eugene Einem, Age 92, a former Melbourne resident died peacefully on January 21, 2020, at the William Childs Hospice House in Palm Bay, Florida. Gerald was born on February 9, 1927, in Milwaukee, Wisconsin. He is survived by his wife Shirley Einem, daughters Deborah Jorgensen and Leslie Fleischmann, son Mark Einem, brother Robert Einem and sister Shirley Einem Behrendt. Gerald was a WWII veteran. In 1945 he served on a security detail at the Nuremberg trials. After the war, he returned to Wisconsin, earned his teaching degree, and moved to Melbourne. Gerald became a well-known biology teacher and head of the Science Department at Melbourne High School where he remained for 21 years. He was also an adjunct professor at the Florida Institute of Technology. In 1973 he moved to Columbia Maryland where he directed their gifted children's program for 21 years. In retirement, Jerry and his wife lived in Nova Scotia, Brownsville, Texas, and Gainesville, Florida. During the winter months, they followed the birds and butterflies to their part-time residence in Mexico. Biology was Gerald's passion. He continued his studies and would often publish his findings. Always the teacher, Gerald led nature excursions to Costa Rica, the Amazon region, and Mexico. Memorial contributions can be made to the William Childs Hospice House and The Nature Conservancy.

11 entries.
Gerald Einem was one of the most influential teachers I had at Melbourne High School. His passion for learning burned in his eyes. He inspired me to do my best. I'm sorry to learn of his passing, but I'm happy he lived a long, energetic, and productive life.
What an inspiration he was to so many students. I do not know the number of science doctors he caused to pursue careers, but there were 2 in my family alone. There were 10 or more of my classmates who went on like that. Amazing teacher!
I am so sorry to learn of Jerry's passing. Jerry shared his passion of everything nature to anyone who would listen. Some of my favorite memories are with Jerry guiding walking tours above his home in Mexico, by my home near an estuary and in San Blas. He will be missed within the community.
We loved Jerry he made all the difference when we moved to La Peñita. We were fortunate to have him give a few lecture series on migratory birds of the Nayarit Coast. Jerry was a kind and gently human being. He will be missed. RIP
Uncle Gerry lived a long and active life. My condolences to his wife Libby and my cousins Mark, Leslie and Debbie.
It's wonderful to learn more about the man who raised a sweet daughter. I can understand her love of lapidary as well as her kind and thoughtful nature. Debbie it's nice to understand who your dad is and how he affected you. Blessings to you and your family. Asking God to comfort you & give you all peace & wisdom.
Dr. Einem, as many of his students called him, mentored many who discovered his passion for science as their own. I was fortunate to visit him in Mexico a few years ago and even though he about 90, his love of biological research was undiminished. All I accomplished would never have happened if it had not been for his ability to inspire this mediocre student HS to accomplish much.
Gerald Einem was my teacher from 1968 to 1971 at Melbourne High School for Biology & Science Research. He was absolutely the best teacher I've known, showing interest & caring about each student excelling. He enabled us to do science research at the collegiate level, while in High School. Many thanks for your contribution to my life, learning & career. Blessings & condolences to the family & friends in this time of loss.
Gerald Einem was the finest science teacher Melbourne High school ever had. It was hard earned but he gave me an A for my science project in my senior year in '59. He was loved and respected by his students. He made science fun. Very sorry to hear about his passing, but what a great life. His family has to be proud.
We are so sorry for your loss, looks like your dad accomplished a lot throughout his life. Our prayers are with you and the rest of the family, we are hear if you need anything.