Guy Seymour Fraser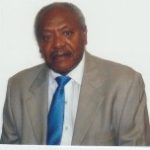 Born in Manchester, Jamaica on January 25, 1932
Departed in Melbourne, Florida on September 4, 2019
Guy Seymour Fraser, 87, a devoted husband and loving father, passed on September 4, 2019.
Mr. Fraser was born on January 25, 1932, in Manchester, Jamaica. His educational studies and work saw him travel to Bermuda and Canada. He eventually settled in New York with beloved wife, Georgianna.
Upon retiring, the Frasers moved to Palm Bay where they enjoyed travelling, sightseeing, and cruises with their friends.
Guy is survived by his wife, Georgianna; sisters, Lorrise and Rosalyn; his son, Guido; daughter-in-law, Mia; grandchildren, Micah and Moriah; several nieces and nephews; cousins, relatives and close friends.
Guy was predeceased by his parents, Laura and John and brothers, Clifton and Hugh.
Funeral services will be held at Holy Trinity Episcopal Church, 50 West Strawbridge Avenue, Melbourne, FL 32901 on Saturday, September 21, 2019 at 10:00 am. The Repast will be held in the Parish Hall after a brief Committal service.
Mr. Fraser's dignified personality, love, and thoughtful approach to life will be missed by all.
5 entries.
Dear Miss Georgina, Michelle and the rest if your family please accept our condolences. Our thoughts and prayers are with you.
We mourn with you Georgiana, Guido and family on the loss of Seymour your dear husband, father, grand father, brother and uncle. Rest assured that God will take care of you as you mourn. Keep leaning on the everlasting of arms of God our Creator, Provider and present help at times like these. He will see you through. Let us be faithful to God so we will be prepared to make it into the heavenly home that Jesus has gone to prepare for each of us.
We will truly miss you, our beloved Uncle Seymour. The love of family, grace and kindness that you have taught us and shown will forever be in our hearts. May your soul Rest In Peace! We love you, always! Everton & Family
Humble Elegant Patient loving uncle C is no longer with us but Gracious Gorgeous Georgiana we admire your life of love and remind youGod will take care of you
Rip uncle Seymour you will be surly missed Love always my sincere condolences to Aunt Georgiana. And the rest of his family. My prayers are with you all