Harry Denby Sauter
Harry Denby Sauter, 97, was ushered into the presence of His Savior, the Lord Jesus Christ, at 12:44 pm on Sunday, January 9, 2022, in Rockledge, FL.
He lived a long and fruitful life! He was a faithful servant, wonderful husband, father, father-in-law, grandfather, and "adopted father" of many who loved and served alongside of him over the years. Harry was preceded in death by his parents, his brothers, Jack and John, and his wife, Norma. He is survived by his sons, Mark (Vesta) and Matthew (Tami), and 3 granddaughters, Mikaela, Bridgette, and Eden, who called him Papa Bear and who he adored.
Born on September 6, 1924, on his family farm, in Grandview, IN to Alex and Flossie Sauter, Harry graduated from Grand View High School where he served as class president in 1942. After a period of working the farm, he joined the war effort in the Second World War in 1944. He trained at the Great Lakes Naval Station and came out as a naval radioman 3rd class and served on various LSTs (Landing Ship Tank) in the South Pacific. His ships evaded various Kamikaze attacks and severe storms and his fleet participated in the Battle of Okinawa.
After the war, he studied at, and graduated from, Purdue University in 1950, with a degree in Electrical Engineering. Soon thereafter married Norma Ruth Cornwell of Rossville, IN. Harry and Norma would move to Bremerton, WA where he worked briefly for a torpedo factory before returning to Indiana to work for American Kitchens in Connersville. It was then when Harry and Norma placed their faith in Jesus, while at First Baptist Church, and would strive to live in obedience to His commands.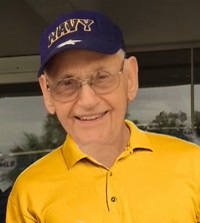 In Connersville, Harry and Norma would start their family. In 1954, Norma gave birth to Mark, their firstborn son, and in 1960, their second son Matthew, would be born in Evansville, IN in 1960.
Earlier, in 1959, Harry took a job at Potter & Brumfield in Princeton, where he would manage the department of quality assurance until 1985 when he took a job with Hansen Manufacturing. For over 27 years Harry, Norma and the boys called Princeton, Indiana home. An avid reader, Harry also enjoyed wood-working projects in his shop, gardening (including the planting of trees), and trips to Kentucky Lake with his boys to fish.
Harry was a man of truth, integrity, and prayer and had direct influence in his sons following Christ and being involved in mission work. He was a founding member of Broadway Baptist Church, Princeton, in 1960 and taught Sunday School throughout his time there.
After his beloved wife passed away in 1987, Harry purchased a condo in Melbourne Beach, FL and in 1988 retired from his long career as an engineer, but he continued doing consulting work in quality assurance. In Melbourne, Harry was active in his church family at Central Baptist Church and focused his time on his adult men's Sunday School class and the mission efforts at Central Baptist Church. He loved his Lord Jesus and those who were a part of the local congregations where he served!
Wherever Harry was needed, that's where you would find him. Every Sunday for over 60 years he led a Bible study and for 25 years he chaired a Missions Committee for his Florida church. For his entire Christian life, he mobilized prayer for the unreached peoples of the world.
A Memorial services will be held on Saturday, January 29th at 10:30 am at Central Baptist Church, Melbourne, FL.
A memorial fund has been established and contributions in memory of Harry can be made to deaf pathway. : Also checks can be sent to Deaf Pathway Global, with a notation for Harry Sauter Memorial, at 8011 Brooks Chapel Road # 2268, Brentwood, TN 37024. Deaf Pathway Global is a mission organization working to ensure the Deaf of every nation have the Word of God – a Bible – in their native Sign Language.
8 entries.
2 Samuel 3:38 And the king said unto his servants,Know ye not that there is a prince and a great man fallen this day in Israel? Harry was a great and godly man.He will be missed.Praying for his family.
Harry was a faithful Christian. He loved the Lord and it showed in his life. I knew Harry for almost thirty years. I attended study courses he taught on cults and others.
Henry's faith was a living one. It was evident in how he spoke and interacted with people he crossed paths with as well as how he approached and addressed different situations that came his way in life. You couldn't help but be impacted by being around him and have your own faith influenced or challenged in a positive way. He will be sorely missed. Prayers and much love to the family he so richly blessed by his faith. We will all see him again.
Uncle Denby was a man to admire, a gentleman like my grandfather. He had an independent but gentle spirit, a faithful servant. He will be missed by many.
Mr. Sauter was a great man. He once saved my life and was like a father to me. He brought stability and peace in my life and that of so many others. His influence on me was profound and still with me to this day. I am forever grateful to him and to his sons, Matthew and Mark. May his memory be for a blessing.
Fair winds and following seas my friend. What a life well lived. I have much respect for you and all that you accomplished in this life. Thank you,
To know Harry means a great deal to me. As my teacher and friend we had many discussions about our faith, our concerns and yes always with an understanding we simply don't know everything. My conversations with Harry were always honest and frank. Faith in the Bible was all important, as well as application of scripture for daily living. I love Harry as a brother in Christ, who demonstrated to me how to live in Christ throughout one's life. I can't wait to see him again with all the saints who have gone before.
My prayers are with Mark, Matt, their wives, and their children. What a man of God Mr. Sauter was! Although I never met him, I had prayed for him in the past when he was very sick. He is with God now. He is Home. Though he will be missed, we all know that he is in a place of perfection, where he will never be sick or in pain again. Praise God!!