Helen Oed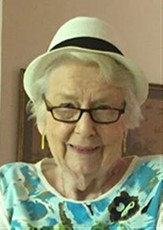 Born on August 28, 1929 in Atlanta, Georgia
Departed June 10, 2022 in Palm Bay, Florida
Long time resident of Melbourne Beach, Helen Oed, passed away on June 10, at the age of 92. Born in Atlanta, Georgia in 1929, she was raised in Jasper, Alabama.
After graduating from the University of Alabama and Columbia University, she and her husband Bill moved to the area in 1952, where they both were teachers for a time at Ruth Henegar Elementary School. Helen was a devout Catholic and a long-time member of Immaculate Conception Catholic Church. She was an active participant in the League of Women Voters and enjoyed her spare time being a formidable Scrabble opponent, playing bridge, and watching Jeopardy.
Helen was a multitalented artist and art educator in all mediums – ceramics, painting, textiles. She volunteered for many years at the Brevard Art Center and Museum for the Sun-Up program, providing art education for the disabled. Helen was a gifted seamstress ranging from making bridal dresses and suits for her family and friends, to donating her time to making school uniforms for children in South America and knitting baby caps for newborns. She was also an excellent cook, with varied recipients enjoying her culinary delights. There isn't enough ink to list her every good deed and talents.
Very generous and hospitable, Helen opened her home to those in need, including a few people who became part of the family. She was fondly regarded and will be missed by many.
She was preceded in death by her husband Bill, sister Mary, brother Louis, and infant son Jimmy. She is survived by her children, John (Jan), Lisa (Lad), Louis (Susan), Dana (Dallas), April (Charles), 11 grandchildren, 7 great grandchildren, sister-in-law Susan, son-in-law So, and nieces and nephews.
Services will be held at Immaculate Conception Catholic Church, Melbourne Beach, at 1:30 pm, on Saturday, June 18, 2022.
The family would like to thank the staff at RiverView Senior Resort, as well as the Vitas hospice nurses and staff for their loving care of Helen.
In lieu of flowers, memorial contributions may be made to World Central Kitchen:
6 entries.
Helen was a gentle, patient, Christian woman. And a brave one too-she taught Confirmation classes to junior high students! She will be missed. Bob and Donna Hildebrand
Dearest Helen,, Oh, the memories I will always treasure of you, Bill and your wonderful"kids"! You were always so caring, talented, and giving of yourself to so many. Your deep faith in our Lord was evident to all. You are now a dear Angel and will be lovingly missed! Sheila
Dearest Helen- Oh, the memories! Your special kindness, love of our dear Lord, talent in so many areas, —- could go on forever expounding on your giving of yourself to everyone who knew you. You are an example of how to live one's life that few achieve. I'll treasure my memories always of you, Bill and your wonderful "kids"! We have an Angel in Heaven! God Bless You! Sheila
I have many wonderful memories of sampling your baked goods in the kitchen...then outside to play Scrabble with you and Bill. ...Then you and I had so many games and visits. ...I will love you and miss you always❤️
I love you dearly, Helen, and will miss you every day. Thank you for being my second Mom and for sharing so many wonderful stories with me. I will always appreciate your sense of humor and your love of books. You rock, Mama Helen.
Aunt Helen, you were an angel here on Earth and now at the side of our Lord in Heaven. You were an inspiration to all with your boundless love and kindness. We will miss you greatly but were blessed to have you in our lives. Eternal peace and happiness to you.