Irene G. Miller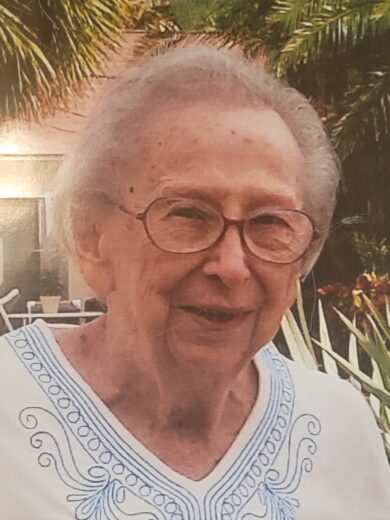 Born on August 29, 1923, in Clune, Pennsylvania
Departed April 17, 2023 in Melbourne Beach, Florida
Irene G. Miller, 99, of Oceanport, New Jersey, passed away peacefully on April 17, 2023. Irene was born August 29, 1923 in Clune, Pennsylvania and grew up in Manville, New Jersey.
She graduated from Manville High School and worked at Johns Manville as a time keeper. During WWII she made plane armatures for the government. She went to the Traphagen School of Fashion in New York City for Cartier Dress Making and upon graduating she worked at Main Bouche, New York as a dressmaker for two years. She also worked for Elizabeth Arden for three years as a dress maker.
She married her loving husband, Raymond J. Miller in 1947 and they lived in Atlantic Highlands, New Jersey. In 1950 they began a family and moved to Fair Haven, New Jersey. In the early 1960s Irene began painting and sculpting. She was a member of The Guild of Creative Art in Shrewsbury, New Jersey and The Art Alliance of Red Bank, New Jersey. She studied sculpture at The Summit Art Center in Summit, New Jersey.
She studied with local artists including Doug McIlvaine, Tony Ventura, Roberta Carter Clark, Val De Maris and Mary Sheehan. Many people treasure Irene's artwork in their homes.
Irene was predeceased by her parents Andrew and Julia Galambos and her six siblings. She was also predeceased by her loving husband of 68 years, Raymond J. Miller. She is survived by her son Raymond M. Miller; her daughter Audrey Yaffie and son-in-law Irv Yaffie; her daughter Peggy Miller and partner Charlie Ryan; her grandson Skyelar Yaffie and wife Sara Yaffie; and her three great grandchildren Nora, Isla, and Owen all of whom she absolutely adored.
Calling hours are from 5 until 7 pm on Wednesday, April 19, 2023 at Brownlie Maxwell Funeral Home, 1010 E. Palmetto Avenue, Melbourne. Further services and burial will be in New Jersey.
">