Jack E. Baltar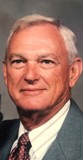 Born in Biloxi, Mississippi on January 26, 1926
Departed in Merritt Island, Florida on March 17, 2019
Jack Eikel Baltar passed away peacefully in his home on March 17, 2019 at the age of 93. Jack was born January 26, 1926 in Biloxi, Mississippi to William Winslow Baltar, Jr. and Katherine Eikel Baltar (Mama) as the youngest of 3 boys. He grew up on the Mississippi Gulf Coast with a love of the water and sailing that would last a lifetime. Jack was a graduate of the U.S. Naval Academy, Class of 1949, and soon thereafter was reintroduced to his best friend's little sister, Rowena Yerger, in Biloxi, Mississippi. As Jack was then in the Navy, he and Rowena, the love of his life, married in September 1953 and moved wherever the Navy sent them: Honolulu, Hawaii; Astoria, Oregon; Vallejo, CA, where their eldest son, Jim, was born; then Monterrey, CA, where their second son, Bill, was born. Before son number three was on the way, Jack retired from the Navy to be home with his family. They settled in Pascagoula, Mississippi where Jack worked on nuclear submarines. Bob and David were born there. When the Space Program was getting started, Jack and his family moved to Brevard County in 1961, where he became a NASA engineer for 26 years. There he worked as a test conductor on Saturn V, various Space Shuttle and Titan/Centaur missions. They moved to their home on Merritt Island in 1967. Jack and Rowena enjoyed sailing, especially to the Bahamas, sometimes with the whole family aboard! Other sailing excursions were from Florida to Maine, and around the islands of Ireland and Tahiti. Later in life, Jack also enjoyed making model sailboats and racing them with the Space Coast Model Sailing Club, where he was a member of the board for two years. He and Rowena loved to dance the Jitterbug, watch Gator football, drink gin and tonics (equal pours, of course), and travel. They often visited family and friends all across the U.S., and even overseas when their son Bob lived in Bermuda. Jack was a member of St. John's Episcopal Church in Melbourne.
Jack was preceded in death by his parents; his brothers: William Winslow Baltar, III (Billy) and Henry Eikel Baltar, Jr (Skoozy), and his wife, Rowena. Jack is survived by his four sons: Jim (Cathy), Madison, Alabama; Bill (Pam), Jacksonville, Florida; Bob (Dawn), Folsom, California, and David (Robyn), Orlando, Florida; his nine grandchildren: Jack (Shelley), Katie, Bobby, Mary, Suzanne, Robbie, Nicholas, Allison, and Jackson; and his six great-grandchildren, Christian, Braelynn, Adelaide, Kallie and Kinsley, and Elaine, as well as many other nieces, nephews, other relatives and friends.
Very special love and thanks to Jack's caregivers, who are angels on earth: Nicole, Amy, Lipson, Conie, Dana, Dane, Connie, and Christine. But most of all, Toni, who was like a daughter to Jack. Her tireless love and commitment to him gave his family comfort knowing he was in the best care imaginable. We love all of you!
Funeral service will be held Monday, March 25th at 1:00 p.m. at St. John's Episcopal Church, 610 Young Street, Melbourne, FL 32935. Inurnment will be in the family tomb in Metairie, Louisiana at a later date.
Memorials may be made in Jack's name to the Alzheimer's Foundation of America, online or by mail to 322 Eighth Avenue, 7th Floor, New York, NY 10001
2 entries.
Dear Jack There is no way to measure the love of my family for you and Row! We miss both of you beyond measure and remember the swimming, sailing, and family times with you and Row and Jack, Bill, Bobby and David. I was blessed to be a small part of your story. Pray for me, Julie
Jack you were such an amazing man. You have taught me so much. You were my buddy and I will miss you so much. I love you Jack Baltar . You will be missed💗