James A. "Jim" Corbett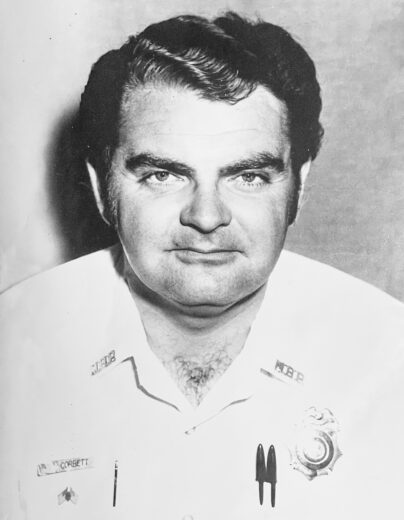 Born January 5, 1942 in Buffalo, New York
Departed September 22, 2023 in Palm Bay, Florida
James A. "Jim" Corbett, 81, passed in Palm Bay, Florida on September 22, 2023. He was born on Janaury 5, 1942 in Buffalo, New York to John Joseph and Ruth Eunice Morgan Corbett.
His family includes his wife of 61 years Gail Corbett' nephews Thomas A. Corbett and Jack Reynolds.
He was preceded in death by his sons Kevin and Jim, Jr.; brother Robert Corbett; sisters Shirley Reynolds and Joan M. Foersch and nephew John Reynolds.
Jim worked as a machinist in Buffalo, NY for over 12 years and later served with the Miami Beach, FL Police Department for over 20 years, retiring as a detective. He was a member of the Fraternal Order of Police.
An avid fly fisherman, he was a 20 year member of the Fly Fishing Association. He was a hot rod car buff.
Family and friends may call from 2 pm until time of service at 3 pm on Friday, September 29, 2023 at Brownlie Maxwell Funeral Home, 1010 E. Palmetto Ave., Melbourne.
5 entries.
Gail, I just learned about Jim's passing, I am so sorry. We had such a great time at Rooney's for fishfrays. I still can see guys at Marylou's full moon party's. I hope Jim has some pull up there too help our Bills!!
Was a great person upbeat will be missed. Probably be gone. Rest in peace, Jim.❤️🙏🏻🙏🏻
I am very sorry for your loss Gail. Jim was a great guy and I enjoyed my time working with him in the Detective Bureau. I will miss him.
There are no words that can ease your pain of loss, but I am thinking of you during this difficult time. Jim was truly a great friend and co worker. I will remember him and his humor fondly. Lisa
So sorry for your loss. We all graduated from Lafayette High School in Buffalo, N. Y. May God Comfort You n Your Family at this painful time.