JAMES C. "JIM" ADAMS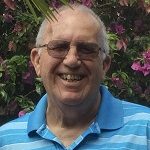 Born July 28, 1940 in Chambersburg, Pennsylvania
Departed on October 29, 2020 in Melbourne Village, Florida
HE DIED WITH ORCHIDS IN HIS HANDS, placed thereby, only hours before his death, by his granddaughters, AMELIA (9) and LILY MARIE (4) ADAMS, whom he adored.
JAMES C. (JIM) ADAMS, a resident of Melbourne Village, Florida, and Newland, North Carolina, was born on July 28, 1940, in
Chambersburg, Pennsylvania. He died peacefully, at home, on October 29, 2020, in the presence of his beautiful daughter, PAULA (Jeff) LUDWIG, and his wife, LYNNE THOMPSON ADAMS.
JIM lived a full life, admired and loved by many. He was a Mechanical Engineer, a Volunteer for Hospice of Health First, a member of the Adult Training Staff of the East Central Florida Region of the Boy Scouts of America.
JIM is survived by his wife, LYNNE THOMPSON ADAMS; his daughter, PAULA (JEFF) LUDWIG; his sons, JACK C. (RACHEL) ADAMS, TOBY (PAGE) ADAMS; and GLEN TRAVIS ADAMS; and by his grandchildren, TREVOR and KAYLEE LUDWIG, RUTHIE SULLIVAN ADAMS, and AMELIA and LILY MARIE ADAMS.
JIM was gentle and generous of spirit. He will be missed by many.
Remembrances may be made in the form of donations to Hospice of Health First.

2 entries.
Friday mornings at Hospice of Health First will never be the same again. We always looked forward to Jim's arrival to get his map/route to deliver medications to patients. Before the pandemic we could count on some awesome bear hugs, jokes and his words of wisdom. Jim was always willing to go the extra mile (literally) and was often seen carrying his toolbox into the office. The hole in my heart is huge, but his spirit lives on his selfless family.
Dearest Lynne and Paula Mr Adams Was one of the most kindest men I have ever had the pleasure of meeting spending holidays , special occasions , sporting events with. His family was his greatest pleasure he treated everyone like they mattered his crazy wit will always be remembered fondly . We have truly lost a giant gentleman but his legacy lives on in his children and grand children . May he rest in eternal peace pain free. All my love Janice