James C. Jones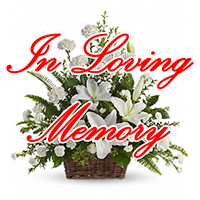 Born in Melbourne, Florida on January 15, 1962.
Departed in West Melbourne, Florida on September 23, 2018
James C. Jones, 56, of West Melbourne passed away on Sunday September 23, 2018. He was a native of Melbourne and a talented handyman.
Survivors include his parents Doc and Doris Jones, brothers George and Charles, a sister Anne Epperson, and a niece and nephew. Calling hours will be on Wednesday September 26th from 5pm-7pm in the Brownlie – Maxwell Funeral Home.
6 entries.
Doris & family, So sorry to hear that Jimmy passed away. He fought such a battle and you all were such a support for him. Our heartfelt condolences. Thinking of you. Sincerely, Your Indiana golfing friends, Pris Dillow, Pat Shipley & Sue Benge.💜
So sorry for your loss. Love and Prayers. Toby and Pat
My heart breaks for you and your family. Couldn't believe the news.
Prayers for the family, sorry for your loss, just remember all the precious memories, he is resting in peace. God Bless.
So sorry Doc and Doris for your loss. My thoughts and prayers are with you all.
My heart is broken for you and your family.. My prayers and thoughts are with you Barb