James Joseph Donovan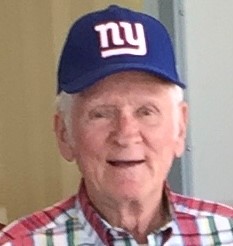 Born June 8, 1928 in Manhattan, New York
Departed September 29, 2023 in Melbourne, Florida
James Joseph Donovan, 95, of Melbourne, Florida passed on September 29, 2023. He was born on June 8, 1928 in Manhattan, New York to James and Jane Kelly Donovan.
His family includes his wife of 69 years Zada Donovan; son James Donovan; daughter-in-law Kimberly Donovan; son-in-law Michael Logsdon; sister Florence Slattery; grandchild Matthew Logsdon and great grandchildren Hayden, Sloan, Ava, and Alan. He was preceded in death by his daughter Jane Logsdon and grandchild, Patrick Logsdon.
James proudly served his country in the US Navy and was honorably discharged in 1953. He went on to become a stock trader on Wall Street as well as bartender and bar owner in Manhattan for 20 years leading to his first retirement. In 1976, James returned to work at the Florida Department of Corrections, retiring at the rank of Sergeant in 1990.
Importantly, James made a difference with his life through sheer determination to provide opportunities for his family that he didn't necessarily have in his youth. The love and devotion James demonstrated for his family can never be overstated and he will be greatly missed.
Family and friends may call on Wednesday, October 11, 2023 from 5 – 7 pm at Brownlie Maxwell Funeral Home, 1010 E. Palmetto Avenue, Melbourne. His Funeral Mass will be Thursday, October 12, 2023 at 10:00 am at Our Lady of Lourdes Catholic Church, 1626 Oak Street, Melbourne. Committal and burial, with US Navy honors, will follow at 1:30 pm at Cape Canaveral National Cemetery, 5525 Highway 1, Mims, Florida. Please arrive at the cemetery at 1:15 pm and pull into lane C.
1 entry.
PRAYERS AND THOUGHTS GO OUT TO THE ENTIRE DONOVAN FAMILY. JIM WAS A VERY SPECIAL AND CARING FRIEND AND WILL BE MISSED. MAY HE REST IN PEACE IN THE ARMS OF OUR LORD .