James Vernon Slaughter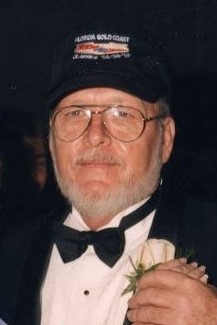 Born on May 8, 1942 in Toowoomba, Queensland, Australia
Departed February 3, 2023 in Melbourne, Florida
James Vernon Slaughter was born May 8, 1942, in Toowoomba, Queensland, Australia. He spent most of his life in South Florida. In 2005, he moved to Live Oak, Florida, where he lived until 2022. After moving to Melbourne, Florida, Jimmy passed on February 3, 2023, after a brief hospitalization.
He is survived by his loving wife of 37 years, Jackie; son Jason Slaughter (Sabrina); daughters Kimberly Kirkley (Andy) and Amanda Cooper; grandchildren Brianna, Darren, Haylee, Mya, Brady, Christopher, and Alessandra; and cousin, Henry Slaughter. He was predeceased by his son Christopher Slaughter.
Jim moved to the United States when he was a young boy. He served in the U.S. Air Force from 1962 to 1970 and retired from the U.S. Coast Guard in 1995 after serving 20 years in the Reserves.
He retired in 2007 from ThyssenKrupp Elevators after a long career in elevator engineering, construction and mechanics, starting with Miami Elevator in 1977.
Jim's hobby was working on and restoring antique cars. He owned everything from a Ferrari and a Jaguar to a 1957 Chevy convertible and Nomad. His most recent classic was a 1952 Chevy Pickup truck. He was one of the founding members and a past director of Florida Gold Coast Classics, a 55-56-57 Chevrolet club in South Florida.
Jim will be greatly missed. To know him was to love him…
2 entries.
We first met Jim in 1979, when a group of car enthusiasts started a car club for 1955-56-57 Chevrolets. That was the beginning of many, many years of Florida Gold Coast activities, car shows, swap meets and family activities that will not be forgotten. We were there through marriages, children's marriages and grandkids. Through the good and the sad. Jim was a very special person and we are so blessed to have known him.
He was the best dad:)Still can't believe he is not with us, but his kind soul is at peace in heaven and no longer in any pain❤️