Jeanie Jones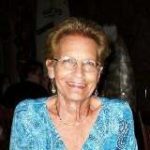 Born in Stockbridge, Massachusetts on April 23, 1941
Departed in Melbourne, Florida, on May 21, 2019
Jeanie Jones, born April 1941 and resident of Melbourne, FL, passed away peacefully on May 21, 2019. Jeanie was born in Stockbridge, MA, the second of four sisters born to the beloved Dr. Donald and Anna Campbell. Jeanie will forever be remembered by her two surviving sisters, Betsy Manning and Bonny Flower of Stockbridge, MA, three children, Kym Kurey of Melbourne, FL, Don Kimenker (Lucinda) of Cherry Hill, NJ, and Kristen Romandetti (Chris) of Melbourne, FL, 23 grandchildren, 17 great-grandchildren, 1 great-great grandchild, along with countless friends and family.
Jeanie attended Becker College and pursued a career as a medical secretary, later finding her niche in sales. She proudly celebrated 35 years of sobriety and was an amazing cook. Jeanie had an uncanny ability to fix just about anything and untangle the most hopelessly knotted necklaces. She loved cribbage, crossword puzzles, finding bargains, soaking up the sun, and befriending even the most finicky of animals. She was a stickler for proper grammar and didn't seem to care who was speaking – she'd correct them!
Jeanie touched the lives of many, as her quick wit and ability to engage a stranger as if she had known them for years, be it in person or on Facebook, endeared her to most everyone she met. Friends and family are invited to attend a memorial service "After Party" on Saturday, June 1st, 2019, at 4pm at Brownlie-Maxwell Funeral Home in Melbourne, FL. PLEASE DO NOT WEAR BLACK, as this will be a celebration of her life.
2 entries.
May you Rest In Peace Jeanie. I love you and will see you in heaven. I have always enjoyed speaking with you I will always remember your kind and gentle way of speaking My thoughts and prayers to your family 💛💛
The heavens are brighter now as they have received a new jewel. May her memories live on as you celebrate her life. My prayers and blessings to the family.