Jason Eugene Ferrell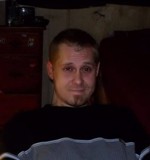 Born in Melbourne, Florida on January 14, 1982
Departed in West Palm Beach, Florida on February 7, 2019
Jason Eugene Ferrell, age 37, passed away on February 7th, 2019, in West Palm Beach, Fl.
Jason is survived by his children; daughter Pearl Layton, of Montello Wisconsin; son Riley Ferrell, of Huffman Texas; daughter Merissa Ferrell, of Indialantic Florida; daughter Jayden Ferrell, of Indialantic Florida; and his son, Emmitt Ferrell, of Indialantic Florida.
He also is survived by his father, John Russell, his brothers; David Lee Ferrell and his wife Marion, Vincent Ferrell and his wife Christy and Mark Russell, Nephews; Kenneth Ferrell, Jose Garcia, and Vincent Ferrell Jr., Nieces; Kassandra Garcia and Jessica Ferrell, Uncles; David Ropp and his wife Karen, Chuck Ropp and his wife Rosemary his Aunt Debbie Gunther and her husband Bob.
He is preceded in death by his mother, Diane Ferrell, and his Sister, Kathy Ferrell.
Jason was born on January 14th 1982 in Melbourne Florida to Diane Ferrell and John Russell.
"Jay" as most people called him, was a passionate, strong minded man who loved making others smile. He enjoyed drawing and being able to share his artwork with his family. He was passionate about playing the guitar and loved to be able to share his talent with others. He enjoyed quality time with his family, friends and just about anyone who could make him laugh.
His family and friends will always remember him as a person who lived life in the moment and tried to persevere in any situation he was faced.
A celebration of life scheduled for 5pm February 16th (this Saturday) at Wickham Park. All are welcome to attend and celebrate Jason's life.
In lieu of flowers or donations, we ask that you come to the celebration with food and/or drinks for all to enjoy.
12 entries.
It's so nice to see that people still hold on to their memories of you. That your family writes and thinks of you often. We may not have been close in the years prior but that doesn't negate the love I held for you. You would be proud knowing your children are all doing well.
I miss you, love you. Wish we saw you more. Some things can't be changed, as much as they are mourned. I will never get to redo what time I did have with you but that is how life works. You were gone too soon and all 4 of us miss you. I love you.
It's been a year today since you left this world behind! Not a day goes by that I don't think of you!! I miss you so damn much & my world is just not the same! I replay your last words over & over just to hear your voice & for a moment a wave of peace washes over me as tho you are here with me! Continue watches over all your mini hell raisers, they need your strength today as they do everyday! Love & Miss you Your Sparkle Bomber
Till we meet again my love! I know you will be watching over all of your children,please keep them safe. Our Gardian Angel
Dear Uncle Jason I will miss you so very much I love you and I'm sorry and I didn't this way we were reunited again tell everybody I said hello and you do you and dirty foot keep it Rockin love always your nephew Vinni
Do Jason you will be missed and loved by all your sisters and brothers nieces and nephews and your children and all your friends we worried night again but until then say hello to everybody for us and keep them company Until We join you again I love you Jason
Miss you so much! We will never forget you! Rest easy now , til we meet again lol 😉
Love u Jason ferrell.u were my number one brother and someone who was always there for me
My heart breaks for the family that is left behind. We all loved him in our own ways and he loved us in his own way as well. Words can't fill the void and there never is the "right" thing to say. I hope that you all can lean on each other during this time of grief. For he is the one who has brought you all together.
Rest easy my cousin. You will truly be missed. I know i didn't get to see you much these past few years but i will always remember you and your sense of humour☺. Your legacy will live on with your children and nieces and nephews😇😇😇😇 love ya cuz😘
I will miss your laugh and that sparkle that lit up your eyes!! You will forever be in my heart! I pray your family/ children strength thru this sad time!! Your pain is lifted, your fears are washed away, so rest easy my man
It still doesn't seem real to me. I just talked to you a few days prior. I am gonna miss you and all the fun times that we all use to have together. Much love!!!!