Jean A. Zemkoski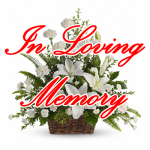 Born on January 14, 1930 in Chicago, Illinois
Departed in Malabar, Florida on November 22, 2019
Jean A. Zemkoski, 89, of Malabar passed away on Friday November 22, 2019at her home. She moved here from Farifield, NJ, founded the Shack Restaurant in 1972 in Palm Bay and owned and operated the restaurant along with her children.
Survivors include her sons Richard and Steve Zemkoski, a daughter Joyce Zemkoski and granddaughters Brianna, Chelsea. A memorial Mass will be celebrated at 12 noon on December 7th in the Our Lady of Lourdes Catholic Church. Donations in her memory can be made to the St. Judes Children's Hospital.
2 entries.
Rest In Peace, Jean. You were the gracious face of The Shack, our home away from home, for many years. You were a hard-working matriarch who welcomed many friends into your restaurant year after year and we felt part of your extended family. We will certainly miss you, Tom and Leslie
My prayers go out to the Zemkoski family for your loss. Thanks for all of the memories at The Shack and for reopening after all the hurricanes.