Jeannine Brown Browning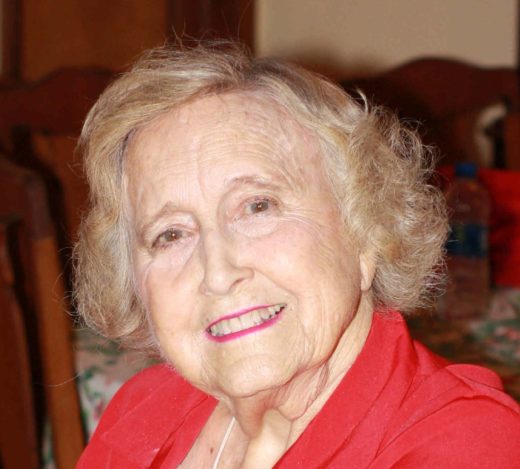 Born on June 9, 1932 in Webster, Florida
Departed on April 23, 2021, in West Melbourne, Florida
Jeannine Brown Browning, 88, of Melbourne has passed away and joined her Lord Jesus Christ in heaven.
She is survived by her loving husband of 67 years, George and her children Ginny, Tricia (Vern), Kevin, Colleen (Jim), 8 grandchildren, 8 great grandchildren and her sister Colleen (Dennis).
Jeannine was born June 9, 1932 in Webster, Florida to her parents Noble and Virginia Brown. She married the love of her life George Browning in Webster Florida on June 28, 1953. She attended the University of Florida in Gainesville and Florida Southern in Lakeland where she studied music. Jeannine and George eventually settled in Melbourne where they raised their family.
Jeannine worshipped with her church family at First United Methodist and played an active role in many areas of the church including youth counselor, leading the MYF group for many years and Pairs and Spares Sunday School class. Many lifelong friends were made there.
Jeannine was an outstanding cook and food was one way she showed her love to family and friends. She wrote several cookbooks and travelled Florida and the Southeast to tradeshows marketing them to stores and giftshops for around 20 years. Her books have been sold worldwide and include family histories.
Jeannine loved to entertain and enjoyed spending time with family, especially during the holidays. She was a huge fan of the University of Florida athletic teams, especially basketball and football. Jeannine remained to true to her family roots and actively managed the running of the family cattle ranch in Webster. She also for many years regularly prepared meals for the women and children at the Haven.
If Jeannine was not everything to everyone…. she certainly was everything to her husband, family and friends. The arching theme encompassing a life like Jeannine's could read "Faith, Family & Friends". Although this sounds like a cliché you can find on many wooden plaques at any gift store, her life was anything but a cliché. Loving, caring, nurturing and kind-hearted, Jeannine lived for her family and her absence will be felt most by them.
Her funeral service will be at 11:00 am on Saturday, May 1, 2021 at First United Methodist Church, 110 E. New Haven Avenue, Melbourne, Florida. Burial will be private with her family.
In lieu of the flowers the family request donations be made to The Haven for Children:
3 entries.
May God's continued blessings shine on the family she loved so much We pray for the all of you especially during this sad transition. Please accept our sincere heartfelt condolences.
Grandmother, Im still having a hard time accepting youre gone. I still want to pick up the phone and hear your voice. Ill always cherish all our memories we made. Dodgertown, all the Gator games, Webster, always calling you on your birthday, emailing you on every deployment i went on regardless of where i was, i always tried to make sure to message you somehow. Christmas will never be the same. From the time i was a little kid, i always loved Christmas because it meant everyone would be at your house and wed alll get to be together as one family. Im glad we went over on Thanksgiving and Christmas last year, and that we still went and spent time with you as much as we could. Im glad the last time we saw each other was last month in Webster where you were so happy, you got to have your namesake on your lap and spending time with her. I could go on and on, but ill wait and save up everything i want to tell you when i see you again way down the road. I love you so much. Its never goodbye, its always see you later. So, ill see you later. Watch over me and the rest of our family Grandmother. We miss you so much! Love, The Guth's Thomas, Amanda and Savannah Jeannine
May God be with her as an Angel and may God bless the rest of the family. Gone but will never be forgotten. with love The Waters Family