Joeann "Joey" Leccese-Frank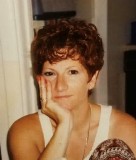 Born in Manhattan, New York on March 7, 1955
Departed in Melbourne, Florida on March 8, 2019
Joeann "Joey" Leccese-Frank, 64, born in Manhattan, New York passes away on Friday, March 8, 2019. Joeann worked as a bookkeeper and then in multiple positions for Brevard County Eye Doctors. She came to Brevard County in 1990 from Long Island NY.
Joeann a beloved wife, mother and friend is survived by her, husband, Bill Frank; son, Jason (Crystal) Perruccio, daughter, Jaime (Keith) Tackett, son, William (Andrea) Frank, daughter, Erin Frank, son, Ryan Frank, daughter, Kailee Frank, grandsons, Chase Tackett, Benjamin Perruccio; brothers, Billy and Joseph Leccese; Adopted Mom to too many to mention!
Calling hours will be Friday, March 15, 2019 from 5:00 PM until 8:00 PM at Brownlie-Maxwell Chapel.
A celebration of Joey's Life will be held on Saturday, March 16, 2019 at the David R. Schechter Community Center, 1089 S. Patrick Drive, Satellite Beach from 12:00 pm until 3:00 pm.
In lieu of flowers please consider donating in her name to St. Jude, Make a Wish, or the Children's Charity of your choice.
4 entries.
I would like to express my sincerest condolences to Joeann's Family for your loss of a dear loved one. This type of loss is always very challenging for both the family and friends, but God's word offers the grand hope of a resurrection to life again. Jesus Christ said, "Do not be amazed at this because the hour is coming in which all those in the memorial tombs will hear his voice and come out". God's word extends to all the wonderful promise of a resurrection to a better life! John 5: 28-29 Learn more about this resurrection at JW.ORG https://www.jw.org/finder?srcid=share&prefer=content&applanguage=E&locale=en&item=docid-502017858_1_VIDEO&docid=1011214
Please accept my condolences to your family. I hope that God's promise of the resurrection brings you comfort during this very difficult time. (Acts 24:15)
I took a position where Joey worked and didn't know her long but she was very nice to me and very helpful. I was sad to hear this news and I will be praying for the family.
Joey or as we always knew you, Jo-Momma. You will always be in my heart and mind. Not only did you mean so much as an employee but even more as a friend. You were wish, and funny, and always there to help. I will never forget you, girl. Bob