John Patrick Hilinski Sr.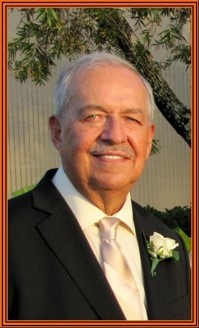 Born March 17, 1943 Philadelphia, Pennsylvania
Departed March 4, 2022 in Palm Bay, Florida
John Patrick Hilinski Sr., of Southeast Palm Bay, passed away at home March 4th 2022, at the age of 78. Loving son of the late John and Wanda Hilinski of Philadelphia, Pennsylvania. Cherished brother of the late Monica Booth(Russ), Shirley Hyland(Jack) and Thomas Hilinski(Joan Marie). He is survived by his devoted wife of 56 years, Barbara(Trzaska), their two sons John Jr. and Brian(Maureen), five grandchildren, two great-grandchildren, 16 nieces/nephews, and 30 great-nieces/nephews.
John will be missed by all of those who had the unique pleasure of knowing him especially during his time as a City of Philadelphia Police Officer(1969-1994) or as a Walmart Associate in Sebastian, FL(1999-2010). His family will miss his being there for them at any time of the day with no questions asked and his never ending sense of humor. Neighbors, we are told, miss seeing John outdoors any given day, tending to his beloved lawn and garden. When the grandchildren were down visiting you could always find grandpop John walking the yard teaching the kids about Florida's nature, birds, and reptiles, with the occasional dad joke added in just for fun.
Family and friends are invited to gather, remember, and celebrate John's life on Tuesday, March 22nd 2022, at St. Joseph's RC Church (1422 Miller Street, Palm Bay, Brevard County Florida, 32905).  You may visit and comfort the Hilinski family during his viewing from 12:00 pm – 1:00 pm in the Church. There will be a Funeral Mass at 1:00 pm with burial to follow at St. Joseph's Cemetery. In lieu of flowers, the family requests donations be made in John's memory to either St. Joseph's RC Church or Hospice of Health First and/or the William Childs Hospice House.
St. Joseph Catholic Church
Hospice of Health First / William Childs Hospice House
6 entries.
Happy Mother's Day grandmommy. This year is really hard without you but I am so grateful for all the years I was able to spend with you and all the Mother's Days my mom and I were able to spend with you together. You really were a special person in my life. I hope you're enjoying your time in Heaven and everything was how you imagined it. I can't wait to see you again. I love you so much. Thank you for being one of my best friends.
May peace and comfort be yours as sweet memories are shared.
Dear Lesa, Hope & family, We are so very sorry to hear of your sweet Mom &, Grandma's passing. We have known Marie, Lesa & Hope as a newborn & longer from Bethany. I remember many fond memories & funny stories. I wish I had the miracle to heal your pain. She is definitely at peace with her king & reunited with her beloved husband & many friends. She was very dear to our family. God bless your family as you grieve. The Portlocks
Bless all the Fields family and may God give you peace that passes all understanding.
Unfortunately, we never had the honor of meeting Marie. We believe she was "An Angel on Earth"; now to continue in Heaven. ❤️
John, your wisdom, friendship and sense of humor will be greatly missed. Rest in peace.