John Robert "Johnny" Allen, Jr.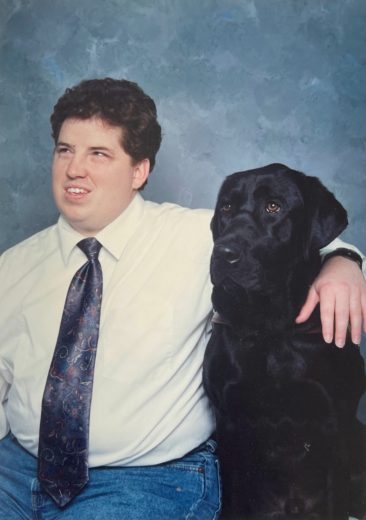 Born on June 19, 1970 in Miami, Florida
Departed on July 7, 2021 in Palm Bay, Florida
John Robert "Johnny" Allen, Jr., 51, a resident of Palm Bay, Florida completed his journey at 1:47pm on July 7, 2021.
Johnny was born on June 19, 1970, in Miami, Florida to John Robert Allen, Sr. and Linda Ann Allen. At the age of three he was diagnosed with retinitis pigmentosa (RP). By the time Johnny was 10 years old he had complete loss of sight. Linda, Johnny's mom, was very determined not to raise a handicapped child. She fought for many of the handicapped programs that are available today in our school system. Due to Linda's diligence in Johnny's life, and his best friend Ernesto "Ernie" Verger, he was a three time marathon runner, carried the Olympic Torch, and was a black belt in Judo. In 1988, he traveled alone and competed in the Paralympics in Seoul, Korea bringing home the bronze medal for third place in his Judo competition. For many years, his faithful service dog Clifton was by his side. There was no stopping this young man.
He loved everything history especially anything about the Civil War. He was also a diehard Miami Dolphins fan. He even had his very own NFL email fan club where his friends would come together with their picks of the week. In December of 2020 he took a fast decline in his health while the doctors were treating him for diabetic neuropathy. It was not until April 2021 that we learned he had a very rare case of neuropathy called neuropathy, ataxia, and retinitis pigmentosa (NARP).
At 17 he met his first love Patricia Fain; they have a son John Robert "Robby" Allen III. On June 21, 2003, he married his wife Kelly, and they have a daughter Elizabeth Marie Allen. John is preceded in death by his loving mother, Linda Ann Allen. He is survived by his loving wife, Kelly Jean Allen; their daughter, Elizabeth Marie Allen; his son, John Robert "Robby" Allen III; father, John Robert Allen Senior; sister, Sherry Ann Covey along with her husband Larry Joseph Covey and her son, Brandon John Fernandez.
A Celebration of Life will be held on August 7, 2021, at 2pm at Grace Bible Church, 3620 Bayside Lakes Blvd., SE, Palm Bay, FL 32909; followed by light snacks and fellowship. Please consider honoring his passion for the Miami Dolphins by wearing their jerseys or colors at his Celebration of Life.
20 entries.
I have so many great childhood memories of Johnny. He was always laughing and having fun wherever he went! I remember Sherry and I (along with my brothers) going swimming and to the youth fair and of course, Judo! He shined bright and there was no one that was going to stand in his way, despite any obstacles. I remember always admiring his strength, that I know was instilled in him by his amazing parents and sister! My heart breaks for the whole family and I hope that beautiful memories will bring you all comfort. I imagine Johnny in heaven with his mom and at peace. Sending love to you all from the Vaters/Vecchio family ❤️🙏
Little Johnny is going to be missed very dearly. Mom and I were very blessed to have gotten to see him before he got really sick. I will cherish the smile he gave us. We are saddened he is not with us, but rejoice he can finally see again and be with Our Lord and Saviour. May God Bless us all. Unending Love, Lisa, Chris, Aunt Betty, Brittany, Jacob and Josh
Goodbyes are not forever...Goodbyes are not the end...They simply mean I'll miss you...Until we meet again...May you Rest In Peace my dear nephew!!! Please accept our deepest condolences for your loss!!! From the George Family, Uncle Bill, Petra, Billy, Brian, Abbey
I was only acquainted with John online, but I will miss his conversations and contributions to the groups we belonged to. It was a privilege to know him briefly and his absence will be greatly felt. I hope this is some comfort as it became important to me when my husband passed in 2017. Peace to his family who remain.
John was such a kind person, always ready to help anyone he could. He will be greatly missed.
Gonna miss you Sensei. May Our Lord grant your family peace in this time of loss. It was good knowing you, when we next meet.. We'll have our vision back.
KELLY, ELIZABETH AND FAMILY, I'M SO SORRY FOR THE LOSS OF YOUR HUSBAND AND LIZZY'S DADDY. I'M PRAYING FOR GOD'S COMFORT AND PEACE DURING THIS DIFFICULT TIME.
Rip john, my internet friend, you will always remain in my heart, thanks for all your wonderful media shares you sent out, jokes, etc. I will always think of you and miss you. Rest in peace my friend. xoxoxo
he wwas a great friend to both of us and was a verry friendley person
I got to know John as a good friend over the last few years. He will be missed.
Wish we could be there... Johnny will be missed and was loved. He can now celebrate in Heaven with his mom and grandma and other loved ones. Prayers for all of the family ❤ love Jimmy and Mary.
Johnny, you will be greatly missed. Your sense of humor and your love will be remembered.
Sherry I'm so sorry about your lost sweetheart. I know he meant the world to you. I'm just devastated, words keep explain... Johnny was always happy smile.. Johnny was always happy smiling,fun guy and I miss those days and I appreciate the love you all gave me growing up. I will be praying for you all... Andrea
I am going to miss John's joking personality. We spent so much time talking about books and music from the 50s through the 80s. He was like a little brother to me and I even called him little bro. You will be missed forever my friend.
I'm sorry about your lost you have my deepest sympathy I knew Johnny from the time we came to Miami I went to school with him from long time ago up to when we graduated from high school he will be sorely
We love you, and we'll miss you so much Johnny... Until we meet again; in the presence of our Lord. ''Matthew 25:21''
We love you, and we'll miss you so much Johnny... Until we meet again; in the presence of our Lord. '' Matthew 25:21 ''
We love you Johnny, and we'll miss you so much.... Until we meet again; in the presence of our Lord. '' Matthew 25:21 ''
Please accept our sincerest condolences. We are thinking of you.