Jolan Selpal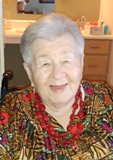 Born in Tiszagyulahaza, Hungary on September 22, 1922.
Departed in Melbourne, Florida on October 23, 2018
Jolan Selpal, 96, of Palm Bay, FL entered eternal life on October 23rd. She was born in Tiszagyulahaza, Hungary to Sandor Horkay and Elizabeth Toth Horkay. She was preceded in death by her husband of 45 years, Stephen, in 1995, and her son Steven, in 2017. Jolan is survived by her daughters Helen Polanski and husband Paul, of Indian Harbour Beach; Betty Spicer and husband Craig of Midland, NC; 4 grandchildren: Bryant Spicer of Midland, NC, Miles Polanski and wife Chelsea of Cincinnati, OH, Peter Polanski of Indian Harbour Beach, and Marcella Polanski of Tallahassee; 2 great-grandchildren, Ava and Jacob Spicer of Midland,NC.
She was a talented homemaker, business owner, masterful seamstress, accomplished cook, author, and most of all, a devout Christian woman. She was affectionately known as Grandma Yoy.
Our family would like to thank the staff of Consulate Health Care of Melbourne and Vitas Hospice Care for their support and loving care.
A memorial service will be held at a later date at Bethesda Baptist Church in Palm Bay, where Jolan was an active member with Pastor James Waddell officiating.
3 entries.
Jolan was my best friend's mum, and very tolerant of our stunts. Now they are both gone ...
What a full life Grandma Yoy had! May all who mourn her passing find joy and ease in the loving memories of their time with her.
I first met Mrs. Selpal when she altered my wedding dress over 33 years ago. She was a fascinating woman, extremely accomplished. May she rest in peace.