Jonathan Piper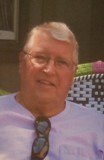 Born in Portsmouth, New Hampshire on June 20, 1940
Departed in Palm Bay, Florida, on March 16, 2019
Jonathan Piper of Palm Bay, Florida passed away 03/16/2019. He is survived by his loving wife of 27 years Constance Crehan Piper, 3 children – Jeffrey (Monica), Jeanne Radano (Andy) and Jennifer Piper, 5 Step Children – Chris Hooker (Al), Brian Bell, Carrie Lindsay (Scott), Cheri Maines (Tom) and Colleen Martin (Jim). He is also survived by 19 Grandchildren and one Great grandchild. He is also survived by his nephew Eric Bushey (Laurie) and niece Tina Bushey. He was pre-deceased by his sister Patricia Bushey (Robert).
He was born in Portsmouth, NH and graduated from the University of New Hampshire(BS) and the University of Colorado(MS) in Chemical Engineering. He then worked for Eastman Kodak in Rochester, NY for his entire working career, retiring in 1992. He married Kathleen Hogan in 1965 and had three children. Divorced in 1990, he then married Constance in 1992. After retirement, he did volunteer work, restored an old 1920 Victorian home, had many part time jobs and traveled. After Connie retired in 2000, they traveled across country twice and visited China, Hawaii, Europe and Alaska.
In 2004, they moved to Florida to enjoy the warmer winters. He remained active with volunteering and became very active in his Home Owners Association serving on the Board for many years. They continued to spend part of the summers in Rochester, NY visiting friends and family and taking a side trip to New England to visit his sister and other friends and family. Most of the year, they enjoyed the nice Florida weather and visits from friends and family with grandchildren.

21 entries.
Grew up 2 houses down the street from the Piper's & spent many the times shooting baskets with him in his back yard. Also, Brother John & I were in SAE fraternity at UNH. Throughout his life he was definitely one of the 'good guys'. My sincerest condolences to this family & friends
Sorry about Jon. I missed the.notice in FB and paper. I hope ur doing well. Jon was a wonderful man. What a family he and u had. And it looks like a wonderful life too.
so many wonderful memories, smiles and laughter with Jon and Connie to help carry us thru missing our "Pipes". Love and grateful hearts....
Jon, it is hard to put into words what you meant to me. You have been a wonderful addition to our family and you will be greatly missed. Thank you for the love and happiness you have shared with us over the years. Love and prayers.
There were no better friends than Jon and Connie. Memories abound with laughter and ❤️ love. He is sorely missed and in our thoughts! We stood up tor them at their wedding and our friendship never faded!!! Love you Jon!!!!
I got to know Jon in my later years. He was my dad's first cousin He visited me and my then husband in Tucson, and I visited him in Florida with an older friend. Jon became a confidant. He and Connie were the perfect fit for each other. I will miss his voice, his warm smile, and his open heart. Rest now, Jon, your work is done.
Dad - there are no words. You are missed so deeply. You were the greatest father a girl could ask for. I love you!
To the remaining family of Mr Piper: Please accept my deepest sympathies for your loss. The Bible refers to death as 'an enemy,' that will soon be done away with. May this hope comfort you all during these turbulent times.
Our deepest sympathy to the family. We wish you Peace and Love to all always.
We had great times in Chem Manufacturing. Many challenges met with success. And then there was volleyball ball. Less success than the professional challenges but still lots of fun. You were a great friend.
Jon was an usher in our wedding in 1964 & boarded with a group of guys prior to that. Have some fond memories of those times. Condolences to his family.
I fondly remember your coming to work the first day at Kodak in a bright red new Corvette, just like both our superintendent and assistant superintendent had.(One was white). And I hope the brown magnetic dispersion finally came out from under your fingernails after working with that sandmill. Our condolences to your family, and we will look forward to seeing you in eternity.
Worked with John for many years at Kodak. He was a great mentor, solid engineer and always available to help. Our deepest sympathies to Connie and the entire family.
Connie...was very shocked to hear about Jon's passing. I can't begin to tell you what Jon's friendship meant to me. His friendship will be greatly missed by myself & his many friends & family. Years ago, we had many good times together when we were roommates & shared the ups & downs of our lives. So very sorry for your loss...my thoughts & prayers are with you & your family.
I believe you lived on St Andrews Drive in Greece. Your dad was so nice. I'm sorry for your loss.
Jonathan was a favorite cousin of my husband, Robert. We enjoyed time with Jon and Connie at our house in Hope and will always remember his warm and caring personality
Jon was my dear first cousin, and I will miss him greatly. I have so many warm and happy memories from all the Piper get-togethers over the years. He was a big-hearted, kind man who loved his family and was a friend to everyone. Tom and I send our love to you, Connie, and to all your family. Nancie
Jon, we are so thankful that you came into our lives and you made my mom so happy. You will be missed and when we think of you, we will have tons of wonderful memories. Thank you for treating my children as your own. You were really the only grandfather that they knew and saw on a regular basis. I will always be grateful for that.
Jon will be missed. We had many fun times and great food over the last several years. A great neighbor and friend.