Joseph Gaither Lanza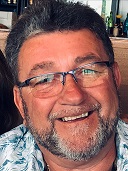 Born on March 2, 1955 in Jersey City, New Jersey
Departed in Satellite Beach, Florida on May 10, 2020
A Life Lived Well
Joseph Gaither Lanza left this world for the other on Sunday, May 10, 2020 in Satellite Beach, Florida. He leaves behind his loving wife of 35 years, Joanne Lanza and their two sons Joseph and Robert; grandchildren twins Robert and Rowan, and granddaughter Avril. His living siblings, sister Laura Lanza and brother Alphonse Lanza will miss him greatly as will his many other friends and relatives. He hold a special place in the hearts of many for his generous heart and friendly nature.
Joseph was born March 2, 1955 in Jersey City, New Jersey and spent his childhood and school years in Wallington, New Jersey with his loving parents Alphonse and Martha Lanza, and his siblings. He joined the US Navy in 1977 and during his service he trained to be an air conditioning technician. He worked in the air conditioning field for 40 years, a professional and honest businessman.
From 2016, Joe worked at Universal Studios Orlando, where he loved the work and the people. The quintessential family man, Joe was the protector of his loved ones. His strength of character was in his devotion to those he touched by his presence.
The family will be celebrating Joe's well lived live with a memorial service on the beach later this summer.
"The purpose of life is not to be happy. It is to be useful, to be honorable, to be compassioate, to have it make some difference that you have lived and lived well"
-Ralph Waldo Emerson
15 entries.
Me and Joe went out and had a great time for 2 days after he finished a stint in BC. Great guy
Joey was so full of life, he loved his family..a real people person. My heart is sad for you Joanne and your children and grandchildren. You are in our thoughts and prayers.
Our deepest condolences toJoanne and family. He will always be remembered as a kind, fun friend. May his soul Rest In Peace .
My Dear Brother,Your Memory will Never Fade Love you Joey
My deepest sympathy to my dear friend Joanne and the boys and all the family , Joe was a great fun loving person will always be in my heart , Rest In Peace my friend will never forget you ?❤️
RIP with your Mom and Dad. <3
We are so very sorry for your loss, Joe and I have been friends for over 45 years. He touched all of our hearts. We will miss you Joe, we will never forget your smile.
Rest In Peace my Friend you will always be in our thoughts and hearts forever. May God hold a special place for you and keep you close until one day we all meet again. The world was a better place while you were here and I was honored to know you. Prayers go out to your family.
I live up stairs from joe in Wallington and worked with his mother. So sorry about your loss.
Love u uncle joe u will forever be missed till we meet again
So very sorry for the family's loss . Joe you will be greatly missed. Love ya cuz! ?
My big brother was a great man, Great family man great provider, The best AC man there ever was, Was also a pretty good Pizza man with the few pizzerias he had. Rest easy my brother, Say hello to mom, dad And Anthony for me. Love you and miss you.
To my friend and cousin ' ship mate. You will be greatly missed by all that you've meet.your family and loved ones will be forever in my prayers. Till we meet again.?
My kids and I will forever love and miss you uncle joe. Not only were you one of the best uncles/godfathers in the entire universe.... but you had one of the kindest hearts I've ever seen from any man on this earth. The love you had for your family was an inspiration!! ❤️❤️ Not to mention the fact that you could also make a mean pizza! ? ?❤️???????? rest in piece padrino until we are all reunited please say hi and give a big hug and kiss from me to Anthony grandma grandpa and uncle mike ❤️❤️