Joseph Naulty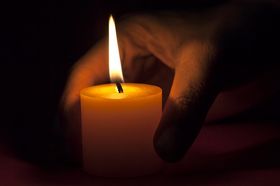 Born October 1, 1934 in Elizabeth, New Jersey
Departed September 3, 2023 in Palm Bay, Florida
With a peaceful heart and a life well-lived, Joseph Naulty, West Melbourne, left this world Sunday, September 3, 2023. Joseph was blind and deaf. In his adult years, Joseph was a strong supporter of the National Federation of the Blind and, more specifically, the NFG Deaf-Blind Division. Joseph is survived by his wife of 67 years, Arlene, and his sister M. Elizabeth. They have three sons Joseph, William Robert and daughter-in-law Nancy. Very special people in Joseph's life include Donna and Jodi. Also surviving are four grandchildren, Nicole, Amanda, Christopher and Jaiden; two great grandchildren Olivia and Benjamin also mourn this loss.
Joseph as born in 1934 in New Jersey to Joseph Naulty, Sr., and Florence Marie Naulty. He lived the first half century of his life in New Jersey as a deaf-blind entrepreneur. For more than 20 years, he operated a small business, the JBN Company, Rahway, where he trained and employed many disabled and special needs individuals from surrounding communities.
After moving to Florida in 1985, Joseph became involved with the National Federation of the Blind on national, state and local levels. He founded the Melbourne Space Coast Chapter of NFB in 2015 and previously worked to expand memberships in other South Florida NFB Chapters. He also established new chapters and special interested NFB divisions in support of his life's interest in disabilities, vision/hearing loss and special interest automobiles.
This was a joyful life, well lived, accomplished and celebrated. Please consider donations in his memory to the "Joe Naulty Deaf-Blind Scholarship Fund". For more information, please contact Sylvia Young, Treasurer, National Federation of the Blind, 4424 Wesley Drive, Tallahassee, FL 32303 / or:
https://nfb.org/contribute/give

4 entries.
Blessings and love to the entire Naulty clan. Godspeed Joe Sr.
Only knowing Joe for a short time, I could tell he was Good man, thoughts are with his family.
Joe leaves an indelible mark on everyone he met. I am blessed to have known him and his beautiful wife.
You will be very missed Love Tina