Josephine Jennie Mary (Babe) Longoverde Coleman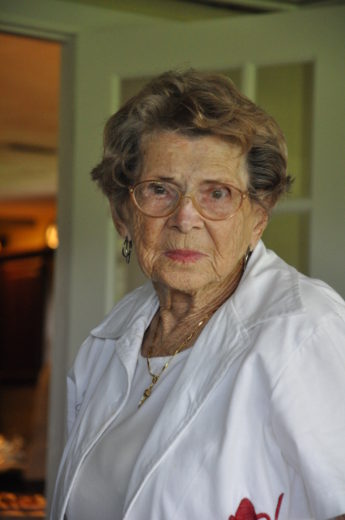 Born on June 27, 1920 in Newark, New York
Departed September 9, 2022 in West Melbourne, Florida
Josephine Jennie Mary (Babe) Longoverde Coleman of West Melbourne, Florida died peacefully on September 09, 2022, at home, with her family at her side.
Babe was born to Italian immigrants, Guiseppe and Giovina D'Orazio Longoverde of Montesilvano, in Newark NY, the youngest of 7 daughters. She lived and attended schools in Newark. However, her horizons broadened greatly when she met Al Coleman of Rochester, NY. Al was working in a furniture store in Newark and as an undertaker and embalmer, but had his sights much higher – the newly created Army Air Corps.
The two married on May 3, 1941 and home became the world – of their 6 children, only 2 were born in the same part of the United States. Making a home for her family was a full-time job especially in places such as London, Germany and Newfoundland. Finally in 1972, Babe and Al made their home in Palm Bay, FL.
Never one to sit still, Babe became active in volunteering at the St. Joseph Catholic School, tutoring students with their reading. Later in life she became involved with the St. Vincent dePaul Society of St. Joseph. Not only did she help with the Society's Food Pantry but, during the last dozen or so years, invitations to her birthday parties always read "In lieu of presents, please contribute to St. Joseph's St. Vincent dePaul Society.
Babe was no stranger on local golf courses, having enjoyed the sport up until her 95th year. She also always had some craft project going. Early on she became interested in arts and crafts, donating much of her work to worthy causes.
Babe was a devoted mother and inspiration to her 6 children – Judith of Forestdale, MA; Joseph and his wife Karen of Satellite Beach, FL; Marykaye Machado of West Melbourne, FL; Arnold and his wife Dona of Colorado Springs, CO; James and his wife Tracey of Port St Lucie, FL; and Barbara and her husband Robert Wanagill of Palm Bay, FL. Babe's home was always a lively place to be with an additional 34 grandchildren, great grandchildren, and great-great grandchildren.
In lieu of flowers, donations to St. Joseph Conference of the St. Vincent dePaul Society, PO Box 60443, Palm Bay, FL 32905, would be greatly appreciated.
Calling hours will be Monday, September 12, 2022 from 4:00 to 6:00 at Brownlie Maxwell Funeral Home. Her Funeral Mass will be Tuesday, September 13, 2022 at 10 am at St Joseph Catholic Church, Miller Street, Palm Bay.
7 entries.
So honored and happy to have known Mrs. Coleman. We have many memories over the years …especially fond ones of her and Mr. Coleman being ever present at all of those St.Joseph's events. Peace to you .
Mothers never really die, they just keep the house up in the sky, They polish the sun by day and light the stars that shine at night, keep the moonbeams silvery bright. I am sending you my brightest light. You will be seriously missed by your family. They adored you.
Glenn and I met sister Betty at Cornerstone Church of God. From day one she welcomed us with open arms. Sister Betty use to tell Glenn he was her favorite drummer..that meant a lot to him. All I remember is smiles and love that ever came from sister Betty. If I could sum up my interpretation of sister Betty..it would be a Godly woman with a beautiful heart. Our prayers and thoughts are with the family 🙏The Alt's Yolanda and Glenn
I dearly loved this precious lady. It would take forever to tell the impact she had on me and my family. She was a second mom to me and she was my best friend for 35yrs. We worked together took a lot of vacations together spent holidays together and the list goes on. If anyone in my life was a living testimony to what a Christian is then it was her. She loved hard. She is now with God and all the ones that went before her with her new glorified body and no more pain. She may not be here no more but I assure you she will never be forgotten. I will see you again in Heaven…God looked into your eyes and said Welcome home my good and faithful child. You have fought the good fight.
I have known Babe most of my life and on many occasions was a very grateful recipient of her hospitality. I am in awe of the legacy she and Al created. Babe will live on in many people who will carry her forward.
Barb and Bob loved your Mom was such a wonderful, beautiful Classy Lady. Always loved both your parents you were lucky to have such amazing parents . Prayers for all your family ! The Sanders Susan and Ed
To Barbara, Bob and family, I found this to be one of the toughest deaths in my life. I was so happy that I had memories to fall back on. This will be one of the most important ways to begin to heal your heart. Although it takes takes years memories gives you a chance to continue to move forward. Love and prayers. Anna