Julia Ann Noll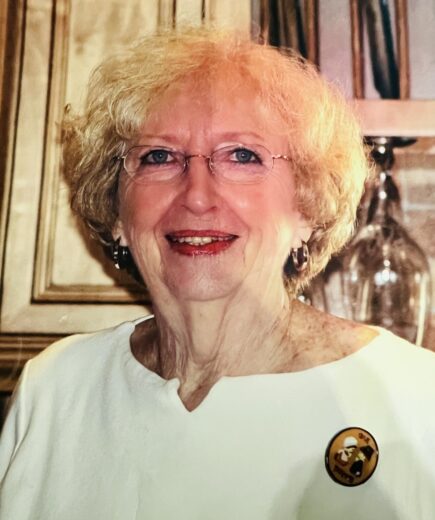 Born on January 14, 1935 in Bloomsburg, Pennsylvania
Departed January 18, 2023 in Melbourne, Florida
MELBOURNE,FL —Julia Ann Noll passed away on Wednesday, January 18, 2023, after bravely battling a lengthy illness. She was surrounded by loving family in her final days.
She was born in Bloomsburg, Pennsylvania on January 14, 1935, a daughter of Beauregard and Mary (Quinn) Hummer.
Julia was a 1952 graduate of Danville High School and worked in the medical field much of her life. She met the love of her life, Arlon E. Noll, and married him on December 29, 1953. They had four children together: Roxanne Kay, Rodney Arlon, Wayne Ivan, and David Allen Noll, all of Melbourne, Florida.
She spent most of her time being a stay-at-home mother and then worked at MIMA medical center, where she met life-long friends. She was an incredible wife, mother, grandmother "Mom Mom", sister, and friend.
Julia was a member of the Episcopal Church and helped Arlon run his furniture company, Dixieland, before he passed in September of 1989.
Julia loved her family more than anything else and made sure Sundays were "family days". Her children and grandchildren enjoyed many fun summers in Pennsylvania and delicious barbeques on Palomino Road in Melbourne. Friends and family were always welcome at the Noll residence. Food, drinks, and laughs were always ready.
Julia is survived by her children, Roxanne Kay, Rodney Arlon (Patricia), Wayne Ivan, and David Allen (Tracy) Noll, all of Melbourne, Florida. She will be greatly missed by her grandchildren: Julia Katherine, Megan Kylie, Shannon Inez, Sheila Marie, Shelly Ann, and Waylon Arlon. Her great grandchildren include: Tanner, Joshua, Abigail, Samuel, Noah, Elijah, Jethro, and Evelyn.
Julia was preceded in death by her parents, husband, and two sisters, Joyce and Janice, of Danville, Pennsylvania.
Her burial will take place on February 4, 2023 at 2:00 p.m. at Florida Memorial Gardens. The family will have a celebration of life following the burial.
In lieu of flowers, the family asks that you donate to St. Jude Children's Research Hospital:
St. Jude Children's Research Hospital
4 entries.
Rest In Peace Jules! You were a good influence on me and your beautiful large family is a tribute to how great you were! God bless you and your family!
My sincere condolences to the Noll family specially to Rod and Patty and Dave and Tracy and their families. I had the privilege of caring for Mrs. Noll's grandchildren and enjoyed my interaction with her whenever she came to my office. One of my favorite families. May she rest in peace.
Just thinking of you and your family and sending hugs knowing what a difficult time this is for you. I have many fond memories of the EGHS days with you, spending time at your house and our adventures. Your Mom was always there to keep us in check. She has such a legacy with that big family and I am sure she will be missed and remembered every day. Love and prayers, Bobby & Mary Ellen Pittman
Goodbye dear friend thank you for all the memories.