Kevin Ray Jones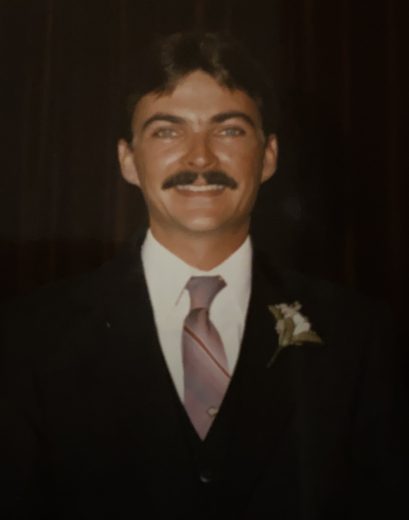 Born on June 1, 1958 in Springfield, Ohio
Departed August 12, 2022 in Palm Bay, Florida
Kevin Ray Jones, 64, a loving husband, father, paw paw, son, brother, uncle and friend of Palm Bay, Florida passed away with his family at his side on August 12, 2022 at his home after a courageous battle with cancer. Kevin was born in Springfield, Ohio on June 1, 1958 to David and Margaret Jones. Kevin welcomed his daughter Shannon on January 26, 1982. He was married to Bonnie on May 21, 1988.
Kevin is survived by his wife Bonnie Jones; his daughter Shannon Rey; son-in-law Christopher Rey; daughter Tamara Cartagena; son-in-law Ralph Cartagena, and mother Margaret Jones. Kevin is also survived by three grandchildren Tatyanna Cartagena, Jaydah Cartagena, Cadence Rey; his sister Kelly Blair; brother-in-law Clifford Blair; his four nieces Amy Blair, Alicia MacNabb, Chelsea Blair and Cayla Craig, and a large close knit extended family. Kevin was preceded in death by his father David R. Jones on June 17, 2018.
Anyone who had the pleasure of knowing Kevin, or being in his presence, knew he was quick witted, funny, loved music and cars, Nascar Racing, his pets, and he loved spending time with his wife, family, and friends.
Kevin's wishes were to be cremated; his family will hold a celebration of his life at American Legion Post #394, 396 Cogan Drive, Palm Bay, Florida 32908 on Sunday, September 25, 2022 from 1:00 pm to 4:00 pm. .
20 entries.
To my dear childhood Sherwood Park friend . I'm sorry for your loss
You have my heartfelt sympathy. So sorry Bonnie and family! Tiny
I am very grateful to have had you in my life. Although our bond was not biological, through time I grew to appreciate the relationship, and the time and effort put into it. I thought of you as my father, and know you felt the same. You were the only one who ever truly filled that space in my heart and life, and that will never change. We have shared a lot of life's precious moments together; happy, sad, and everything in between and I have grown to really love and appreciate all of them. Thank you for your friendship and being there as a father, father in-law, and grandfather. I love and miss you very much. You made all of our lives better with each role you played, and you will be missed more than you could ever know. I am thankful to have had the opportunity to share this sentiment with you before God called you Home. My thoughts and prayers are with the rest of the family as they journey through their process of losing you. It brings me peace to know you are with your dad, other loved ones, and beloved pets we've lost along the way. I know you are still with those of us you love in spirit. Thank you for the unique way you let me know you are okay and arrived Home with our Heavenly Father, message received! ❤️ Until we see each other again...Love Always, your daughter 😘
Kevin was always a bright light, quick with a joke and faster to lend a hand. You are missed my friend.
Long time good friend, he will be missed. RIP my friend. 🙏🇺🇸
Kevin was always a positive light. You are missed my friend.
My prayers go out to you all. I'm so sorry for your loss😔
Bonnie is a special friend of mine since high school. Once she introduced Kevin to me I knew he was the the love of her life. He treated Bonnie with love, kindness, and respect. My heart aches for Bonnie and family. Kevin is in peace in God's loving arms.
My heart hurts so much 💔 I miss you every day and every night and in between I love you forever. 😪
A good hearted man. Alway made me laugh and had a great sense of humor. A love for dogs and his family! You will truly be missed by your family and friends 💔. Tell Uncle David we send our love to him. Many fond memories with you❤.
God speed Kevin. I'm gonna miss you.
I still can't believe you are actually gone. So quick so soon. Im happy you hurt no more from the beast you battled. I know you and Dad are together once again ❤️ I love and miss you always and forever ❤️
Sorry for your loss but I am sure he is happy with his Dad. Love to all
RIP Shannon's daddy!!! Heaven must be a great place because it has our daddy's now. Prayers to his wife kids and family. I love you Shannon Rey
RIP Shannon's daddy Kevin!!! Heaven must be a great place for our daddy's. Praying for his wife and kids also all family. Cancer really does suck. Love you Shannon Rey
My heart wasn't prepared for your departure from this earth. I will miss you so very much, but will have all our memories to help mend my heart. I hope you and Pap-pa are catching up, and watching over us, and that all our old pups have come to greet you. Love your Sweetheart ♥️
You were a wonderful father to Shannon. My thoughts and prayers are with you and your family. I wish your family peace and comfort as they grieve. Laura Reitz
The road was long., the hills harder and harder to climb. He closed his eyes and said; Peace be Thine. Bonnie, Shannon , Kelley and family we are so sorry for your loss and hope you will find peace as Kevin does now. Sincerely , Bob and Cindy Thirkelson
So sorry for your loss. You all are very strong and close family