L. Richard Hunter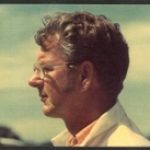 Born in Cincinnati, OH on June 14, 1928
Departed in Indialantic, FL on April 1, 2018
L. Richard Hunter passed away at his home April 1, 2018. He was preceded in death by Zada, his wife of 58 years. Richard was born June 14, 1928 in Cincinnati, Ohio and spent his early years in Milwaukee, Wisconsin and then served in the Navy. Richard attended the University of Miami. He has lived in Brevard County since 1951 after moving from Miami, Florida.
Richard was in the dry cleaning business for over 50 years. He was the owner of Fifth Avenue Cleaners in Indialantic where he taught his children that business.
Richard had many interests he was passionate about including golf, snow and water skiing, and boat and motor cycle racing. He encouraged his children and grandchildren to participate in those sports, also.
He played sports like softball, bowling and fishing in his early years.
Mr. Hunter is survived by his step-sister, Sandra Bischmann of Wisconsin, his children Eilene Toughey (Tom) of Dallas, and Christy Hunter and Clay Hunter (Gina) both of Melbourne. He is also survived by five grandchildren, Kelli Nesseth(Jeff), Richard Orr (Marianne) and Mike Orr, James Hunter and Sara Hunter, as well as two great granddaughters, Jordan and Carlye Nesseth.
A memorial service will be held at Brownlie's Funeral Home at 10:00 am on April 14, 2018. The family requests that those planning expressions of sympathy donate to Health First Hospice, 1131 W. New Haven Ave. West Melbourne, FL 32904 or Health First Foundation to be applied to Aging Services Center for Family Caregivers, [email protected].
1 entry.
Richard was a Very close friend. Loved Zada equally. Enjoyed '69 to '72 competitive skiing, ski racing, boat racing. Great evenings in the garage with crew & family tweaking race boat. Always envious of the "Ski-Tique" I so wanted... Zada, Eileen, Christy, Clay the best - to me - a Yankee attending FIT / ATI - private pilot training. So disappointed I was not aware of Richard's passing. I visited Richard thru 2008 while in area on business. Talked with Christy afterward, trying to stay in touch. Richard & Zada were very important friends - I miss them, and, respect what they added to my life....