Leonard Russell Brown Jr.,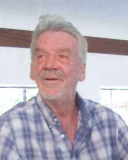 Born in Melbourne, Florida on April 3, 1960.
Departed in Melbourne, Florida on October 31, 2018
Leonard Russell Brown Jr., born April 03,1960 in Melbourne, FL, passed away October 31, 2018 . He is survived by his wife Deborah, daughter Taylor Lynn Brown, grandchildren Zachary and Serenity. Also surviving are sisters Linda K Brown and Patricia Brown Dominguez, nephew Fisher (Jennifer) Dominguez, great nephew Anton Dominguez, and great nieces Emma and Victoria Dominguez. He was predeceased by his parents, Leonard Russell Brown and Coral Lee Craig, nephew Pedro Aniceto (Alison) Dominguez and grandmother, Ethel Fisher. As an adult, Lenny took great pride with his work in both commercial and residential construction. He loved being outdoors. Enjoyed, fishing, surfing, walking the beach, kayaking, helping friends and neighbors. Remember him in the sun & breeze. He was loved. Funeral services will be held at Brownlie – Maxwell Funeral Chapel on Saturday November 10th at 11am. www.brownliemaxwell.com
2 entries.
My deepest heartfelt sympathy for the loss of Lenny to Taylor my beautiful niece and her two beautiful children, Serenity and Zachary. I know he will be missed and forever loved, he now is a a beautiful Realm Of Heaven. My condolences to the remaining family of Lenny God bless you all
My heart is heavy, I am so sorry fir the loss of Lenny. please accept my deepest sympathy to all the family, especially to my daughter Taylor and grandchildren. Lenny will be deeply missed and loved. All my love and prayers. Debbie Brown