Leonel "Bert" Berthiaume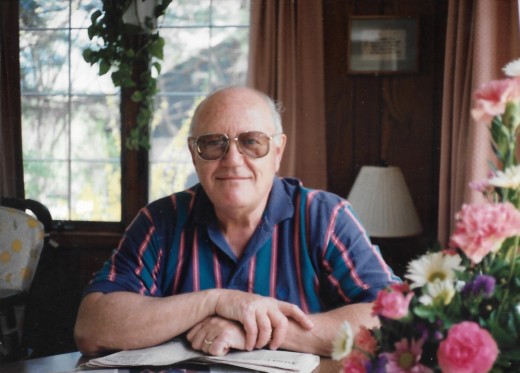 Born on February 20, 1928 in Putnam, Connecticut
Departed October 18, 2022 in Rockledge, Florida
Leonel "Bert" Berthiaume passed away on October 18, 2022 peacefully at home at the age of 94. He was predeceased in death by his wife Laura. He was the loving father of Carol Bartlett and her husband John, Elaine France, Ken Berthiaume and his wife Michelle and Angela Berthiaume. Bert was the proud grandfather of John "Bo" Bartlett and his wife Michelle, Matthew Bartlett and his wife Christina, Jason Bartlett and his wife Sascha, Saralyn Huberty, Aaron Huberty and his wife Nicole, Susan Ricker and her husband Joe, Anna Berthiaume, Mackenzie Fournier and her husband Joe, Abby Schofield, Paul Stewart and Gabrielle Carpenter. Bert also leaves behind six great grandchildren – J.T., Tyler, Ava, Jameson, Jocelyn and A.J.
Bert was born in Putnam, Connecticut in 1928 and was raised in Southbridge Massachusetts. As a bright young man he joined the Army in 1946 where he worked as a high speed radio operator in Japan. In 1951 he was married to Laura (Osimo) and loved her for 61 years until her death in 2012. He graduated from Northeastern University in 1953 and raised his family in Burlington, Massachusetts where he was a member of the Knights of Columbus and a Lector/CCD Director at St. Margarets Catholic Church. He enjoyed golf, gardening and cooking. He and his wife relocated to Florida in 2011.
Bert had a lengthy career as a mechanical engineer working at Pratt and Whitney, Avco Corporation and Stone and Webster. He helped design parts for rockets, aircraft engines and nuclear power plants.
Bert will be fondly remembered by his family and friends for his quick wit and inquisitive nature – asking questions until the day he died. He wrote his own rules, including how he drove his car! Always trying new skills; he learned to play bridge at 87 and was solving complex algebra equations at age 92. He had a few sayings that were sometimes cringe worthy and he took great pride in sparking political debates among his family. He enjoyed watching historical drama TV shows and yelling at his phone because the stupid thing doesn't work. He played games on his laptop and checked his messages and emails regularly. His emotional side was sweet and passed down to some of his children who, like him, also cry at commercials.
Visiting hours will be from 11 am until the time of his funeral service at 1 pm on Saturday, October 22, 2022 at Brownlie-Maxwell Funeral Home, 1010 E. Palmetto Avenue, Melbourne, Florida 32901.
In lieu of flowers, please consider donating to either Nana's House, 3492 God's Way, West Melbourne, FL 32904 (321-724-5111) or Batey Girls Organization:
6 entries.
Dear Angela, So very sorry, wishing comfort to you and your family.
We are both extremely sad for your news of your dad. But it sounds like he lead a very interesting life. God Bless him, he received his Wings and has joined his loved ones , may your family find Peace in his passing. Pat/Dave Penrod
Dear Angela and family. Please accept my sincere condolences.
How fortunate you are for having such a wonderful, loving father!
So sorry for your loss, from everything Angela had told me he was such a wonderful person and Father. I am glad he is going to rest in peace now and i'm sure thankful for all the good care and concerns from his loving family.
Sending love and prayers for comfort and peace.