Lois Margaret (Robbins) Bradley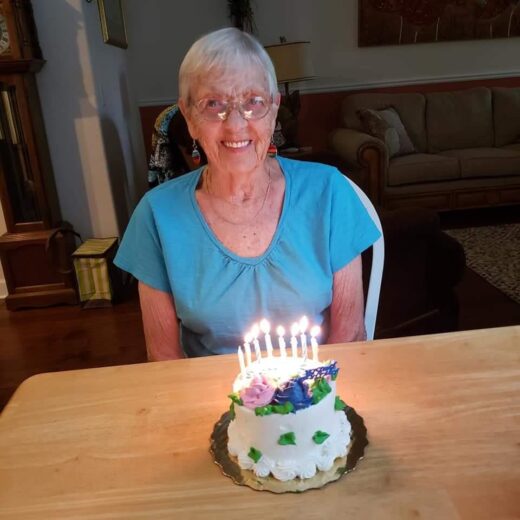 Born on June 17, 1941 in Jamestown, New York
Departed February 20, 2023 in Melbourne, Florida
Lois Margaret (Robbins) Bradley, age 81, of West Melbourne, Florida, passed away on February 20, 2023 after losing her battle with cancer.
She was born in Jamestown, New York on June 17, 1941 to Mildred and Robert Robbins. In addition to Jamestown, she lived in Erie, Pennsylvania, as well as Holopaw, Inverness, Melbourne and West Melbourne, Florida. She graduated from Melbourne High School in 1959.
Lois had a playful and joyful soul, with an incredible and infectious laugh. She loved life, absolutely adored her children and grandchildren, loved cooking for her family, enjoyed games, cards, bingo and dominos. She was retired after a long and successful career as an executive secretary at Patrick Air Force Base.
She was predeceased by her husband Richard Bradley; her parents Mildred and Robert Robbins; her sister Georgia Sias and her brother Bob Robbins. She is survived by her daughter Cindy Bradley (Ed); son Sam Lusk; grandchildren Samantha Carter (Tyler) and Shayne Kinney; great grandchildren Layla Carter and Jayce Carter; brothers Wes Robbins (Pat) and Spencer Robbins (Heidi); and sisters Joyce Farnschlader (Ed), Denise Scanlon and Judy Robbins. Lois also had many nieces and nephews who she loved dearly.
In lieu of flowers a donation to the Leukemia & Lymphoma Society (LLS) is requested in Lois' memory. https://givenow.lls.org
A celebration of life will be held for Lois on Sunday, March 26, 2023 at 12:00 noon at the pavilion at Windover Farms of Melbourne.
4 entries.
Aunt Lois, one of the most wonderful, joyful, loving people I know. I was beyond blessed to have you in my life and will forever cherish the memories we had together. You are missed so deeply. Now you are with your beloved Richard in Heaven forever. We will always be thinking of you.
To my dear Cousin Lois and family. So sad to hear of the family's loss. I know it has been a long time since we have been together but want the family to know that I pray for strength and comfort during this time of grief. Know that your many memories with give you peace and smiles to remember Lois.
The first thing you noticed about Lois was her fantastic smile. She loved her family with all she had. She will be greatly missed by anyone she had ever touched. I will see you in Heaven my friend. Love and prayers to all the family.
Lois was the BEST SISTER-IN-LAW anyone could ever ask for. If I could have chosen a wife for my little brother, it would have been Lois! I LOVED her as good as I loved my sisters (sometimes better)! She was a wonderful person inside and out. A GENUINE FRIEND! I miss her so much; but I will ALWAYS have wonderful memories to cling to and cherish! I am blessed because I had Lois as my sister-in-law! Prayers of peace and comfort to the family, Sissy