Loraine Torruellas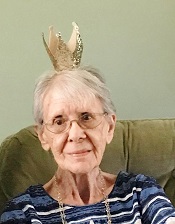 Born on October 5, 1924 in Bryson City, North Carolina
Departed September 24, 2022 in Melbourne, Florida
Loraine Torruellas
Mom's earthly journey came full circle on September 24, 2022; she has joined her family and friends in heaven, just shy of her 98th birthday. She was smart and determined, kind and giving, responding quickly to help someone in need. She led by example.
She experienced a life well lived. After nursing school in Greenville, SC she did post graduate work in obstetrics in Chicago, IL. She was then recruited to Richland, WA to help solve infant mortality issues. The site she was working at was connected to the Manhattan Project. She moved again to Marion, NC where she was the Director of Nurses at the local hospital for nine years. She followed her family to Melbourne, FL where she worked as the Medical Floor Supervisor at Holmes Regional. She moved on to lead Utilization Control through the first Medicare audit and retired from this position.
She loved her family and was in inspiration to them and many others. She leaves behind her daughter Maria, grandchildren Newlie (Christy), Amy, Kyle (Allison), seven great grandchildren, two sisters-in-law and many nieces and nephews. Love leaves a memory no one can steal.
Our family would like to thank VITAS Team 185 (Stephanie Veibl) and the Staff and Caregivers of Home Health Care of Florida (Denise, Beatrice, Rose, Marie, Tracy Ann, Kishia, Serfise, Shannon, and Geneve). The care and support from her Village was exceptional.
7 entries.
So sorry to read about your mother's passing. She and my mom, Beatrice Erskine, worked together in Marion, N. C. She was a special lady.
My wonderful aunt Loraine, what an amazing woman, she loved people and and she was loved by so many. I love you so very much, you'll always be in my heart
It was an honor to have met her. Her kindness trickles down to her family, especially Maria and Amy. Prayers for peace and all the loved ones she left behind. 🙏🙏🙏
Indeed a life well lived. A real special lady whose gentle and kind friendship provided memories I will forever cherish.
I'm sorry to hear about Gran,. She is off doing her own thing now with no pain or weakness. She is dancing away with family and friends that have gone before her. Thank you Amy for sharing your Gran with me. She's a beautiful a lady and I'm glad she was yours . Love to you and your family.
She was a very special woman for her generation. She is lived and will be rememberd by her family. Death cannot take our memories or diminish love.
She was an amazing woman with an amazing family. She will truly be missed.