Lorraine Elizabeth Miller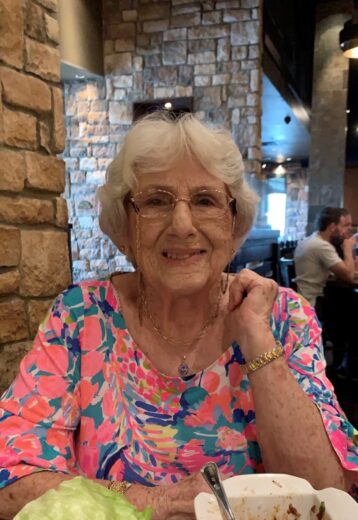 Born on February 13, 1933 in Dickinson, North Dakota
Departed May 20, 2023 in Rockledge, Florida
Lorraine Elizabeth Miller, the widow of Edmond Miller, passed away peacefully on May 20, 2023 to be with the Lord. She was born on February 13, 1933 in Dickinson, North Dakota to Frank and Elizabeth Wagner of Dickinson, North Dakota. Mrs. Miller grew up in Laurel, Montana and was one of eight girls and five boys born to Frank and Elizabeth Wagner.
She is survived by two sisters Rita Ryder and Angeline Rolison, and one brother Herman (Jim) Wagner; three children Coleen Kilgore, Richard Flenning and Nancy Sutton, and nine grandchildren Kristin McCollum, Robert Dunson, Aaron Sutton, Rachelle Williams Bolton (deceased), Brooke Sutton, Chase Sutton, Ethan Gaines, Samantha Rivera, and Alex Flenning; two great grandchildren Delanie Dodson and Brysen Dunson and one chihuahua, Nala.
Mrs. Miller attended Calvary Chapel Melbourne. She loved her life to the fullest through simple pleasures such as sitting by the ocean, visiting family, shopping, and eating chocolate.
A celebration of Lorraine's life will be at 1 pm on Saturday, June 3, 2023 at Brownlie Maxwell Funeral Home, 1010 E. Palmetto Avenue, Melbourne.
3 entries.
I love you Nannan and I'm going to miss you so much.
Lorraine, I hope you lived your life to the fullest and savored every precious moment. You created a wonderful family that will cherish the memories they had with you for years to come. You were a little spitfire every time I came to visit and I enjoyed our conversations. You will be missed. I hope you find comfort and peace in God's arms with those who were waiting for you to arrive. Sending your family hugs and love during this difficult time. Rest In Peace Lorraine. 🙏🏻
Aunt Lorraine, I only new you for a short time when you came to visit your two wonderful sisters in Laurel. It was such a joy to share those few encounters with you and the rest of the Wagner family. God Bless