Louise V. Kramer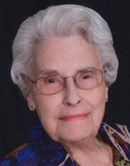 Born in Billingsley, Alabama on September 24, 1920.
Departed in Palm Bay, Florida on July 27, 2018
Louise V. Kramer, age 97, joined her beloved husband of 69 years, Arthur F. Kramer, in heaven on July 27, 2018. Louise was a lifelong Methodist, devoted wife, mother, grandmother, great-grandmother and great great-grandmother affectionately known as Nana. She was well traveled and enjoyed seeing the world, as well as visiting most U.S. states for many years in their Airstream RV. She was very active in her community, everywhere she lived.
She is survived by her step-sister, Sarah Collier, daughter, Jane Liseth Kramer Nelson; son Art (Cathy) Kramer, Jr; two granddaughters; Liseth (Tony) Garrett, Whitney (Dustin) Duffy; grandson, Ben (Jaclyn) Kramer; five great granddaughters, Katelynn, Emma, Abigail, Caden and Cameron; a soon-to-be-born great grandson, Anderson; 1 great-great granddaughter, Kali.
She was preceded in death by her sister, Nell Trotter (Toots); step-sister Eleanor Grantham; and various nieces, nephews and cousins.
In lieu of flowers please consider a donation to Florida United Methodist Children's Home, 51 Main Street, Enterprise, FL 32725 or your local Alzheimer's organization.
A celebration of life will be held at the Highland Avenue Fellowship Church, formerly known as St. Paul's United Methodist Church on October 13, 2018 at 2:00 pm.