Luis Rodriguez, Jr.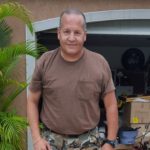 Born December 27, 1966 in New York, New York.
Departed on December 18, 2020 in Melbourne, Florida
Luis Rodriguez, Jr. was born on December 27, 1966 in New York, New York. He left us unexpectedly on December 18, 2020. Luis was a wonderful husband, father and all around an amazing man. Luis loved his family, his wife, children, grandchildren and his beloved fur baby Sasha. His family includes his wife Wife – Tammera Rodriguez; son Luis (Megan) Rodriguez, III; daughter Tabitha (Jayson) Ramos; daughter Brittney Kipping; father Luis Rodriguez, Sr.; brothers Johnny (Raelene) Rodriguez, Bobby (Heidi) Rodriguez, David (Juanita) Rodriguez; grandchildren Kalieb, Catalina, Jahmiah, Isabella, Luis, IV, Millianna, Mason, Madison, and Savannah. He was preceded in death by his mother Maria A. Rodriguez.
He loved to be outdoors, fishing and anything country, music and all! Above all else he gave his heart to Jesus and shined his love and spread his word throughout his time here with us. He touched many people and knew no stranger. His passion was to help those in need, the homeless, veterans and abused women and children. Luis will always be remembered for his heart of gold, fun-loving ways and the smile he always kept. His laugh was well known and contagious.
He shined brighter and brighter as his life went on. Luis was a stubborn man, who learned so much from his mistakes in life and turned those lessons into amazing hope and support for others. He became an extraordinary leader for those who needed guidance by sharing his struggles and successes and inspiring others to keep their faith and hope and changed so many lives for the better. His gift to this earth was to show one person at a time how a little faith and hope can make all the difference, and he gave this gift to many. He always said where one door closes God opens another. All he wanted for Christmas was to spend time with his family, and have a hip put in so he would be able to walk. We will never understand why God chose to bring him home before that, but we do know that where God closed his door of pain and suffering he opened up his gates to heaven so he may be free and walk and run and watch over us all.
His memorial service will be held on Tuesday December 22, 2020 at Victory in Christ Jesus ( 2865 Jupiter Blvd. SE Palm Bay, FL). The viewing will be from 4pm followed by a service at 6pm. Social distancing and masks will be required.
2 entries.
God Bless and keep Luis. May he Rest In Peace.
Tammera, my heart is heavy for you now, Luis was a dear friend, always helped when needed. I will never forget when he rescued me from the snake in my house. Lord knows he laughed at me because it was a little black racer that was in my house. He and Jim are riding there scooters around and site seeing together now. May be rest in peace and know he is forever in my heart. God Bless, Kathy