Lynn A. Duda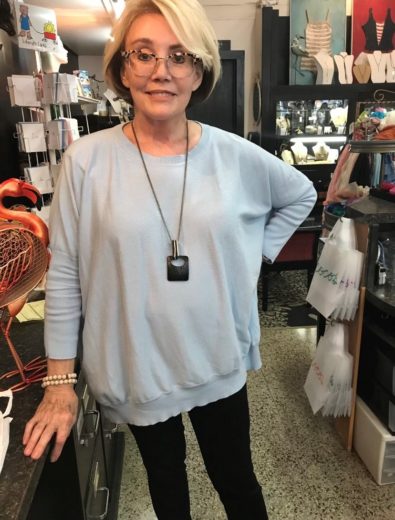 Born on December 10, 1949 in Detroit, Michigan
Departed on December 6, 2021 in Palm Bay, Florida
Lynn A. Duda passed away peacefully on December 6, 2021 at William Childs Hospice House in Palm Bay after a valiant fight with cancer. She was just shy of 72. Lynn was born on December 10, 1949, in Detroit, Michigan. She was preceded in death by her parents John L. Fralick and Patricia Fralick-Forrester.
She is survived by her husband, Joseph; sister, Sue (and Bill) Snyder; children, Alexandra Duda, Mike (and Elizabeth) Morris, Donna (and Rob) Duda LaRue, Valerie (and Scott) Miller; grandchildren, Sydney (and Cameron) Wales, Eden and Hadley Miller, and Roxy Duda.
Lynn grew up in a suburb of Detroit and at the age of 18 began a career in modeling that peaked when she worked for a major agency in New York City. Her experience in the world of modeling ignited a love of retail sales and, as a savvy business owner, she launched two successful boutiques: East Coast Clothing in Stuart and Coco's in Cocoa Village – both served as conduits to her real love which was making people feel good.
Lynn met the love of her life in 1988 and they were married November 4, 1989 at St. Luke's Lutheran Church in Slavia, Florida. They moved to Brevard County and became residents of Viera, Florida, where they raised their family. As a local business owner, Lynn shined her light into other people's hearts, improving the way they felt about themselves.
She will be deeply missed by her family and the many friends she made throughout her life.
A Celebration of Life will be held at Faith Viera Lutheran Church on December 16, 2021 at 2pm. A reception will follow in the Fellowship Hall.
In lieu of flowers, donations can be made to the Leukemia Research Foundation, 191 Waukegan Road, Suite 105, Northfield, Illinois, 60093.
8 entries.
I just recently learned of Lynn's passing. She was a loving, caring and generous person who always took the time to visit with you, no matter how hectic her life was. She also was a savvy business lady who was able to successfully navigate the retail world ups and downs without sacrificing her ability to readily connect with anyone who needed her advice or attention. I will miss her greatly and extend my sincerest condolences to her family. I know she is resting peacefully in the arms of God.
Lynn was always a beautiful, gracious lady. Great sense of humor and so easy to please. She will be greatly missed by our community, her friends and family. Joseph: I am so sorry for you. I am deeply saddened by her loss and if there is anything I can do for her family, I hope they reach out to me to help in any way possible. As a widow myself and the loss of both my parents in the last 2 years, I know what grief is. God Bless to all of you. Ann
The first day my husband and I opened our store in the Threadneedle Street Mall Lynn came down to greet us. That was Lynn.....open heart, kind and thoughtful, and the greatest smile. We are the fortunate ones whose lives you touched.
What can I say about this one-of-a-kind gem. Lynn was a person who brightened the day of those around her. I have never seen a person so willing to engage with everyone, and to leave their day brighter. She always had a compliment, a kind word, or a smile. Lynn had an incredible warmth and generosity of spirit. She inspired me immeasurably to be the person I am today. My heartbreak at her passing is only tempered by the gratitude I have for having her in my life. My heart is with Joseph, Alex, Michael, and the rest of her friends and family.
My heart aches for Joe Duda and all the members of Lynn's family that you and we have lost this lovely lady from our midst. It was my privilege to meet Lynn many years ago when she still lived in Central Florida and to be friends with her personally, in the business community and at church. Her smile, warmth, thoughtfulness and generosity will be forever missed. Rest In Peace!
I worked with Lynn for 7 years at Cocos!! She was the most kind and generous person I knew!! She always had a smile and the first thing out of her mouth was "How are you" and she really meant it, she really wanted to know!! This is a sad day. I loved this woman!!
I am so sorry to learn of Lynn's passing. It was always so much fun to go to Coco's. She was warm and welcoming, compassionate and kind. And funny! Her death is a true loss not only for her family and friends but also to the community. My deepest sympathy to all.
My sincerest condolences to Joseph & the Duda family. Lynn was friendly & personable and will be missed by the Duda family & Viera community. May God bless Lynn and provide her family with the strength and support needed during this difficult time.