Mae Lucy Piszczek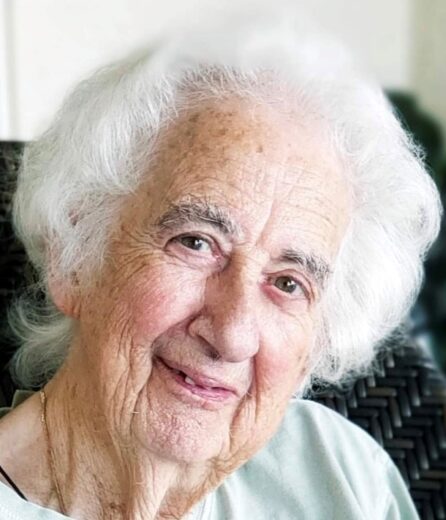 Born on June 19, 1928 in Brooklyn, New York
Departed January 29, 2023 in Rockledge, Florida
Mae Lucy Piszczek (94) of Melbourne Village, FL passed away on January 29, 2023.
She is preceded by her parents Archibald William and Hetty Catherine Stentiford; brothers Archibald and David Stentiford; her husband John Valentine Piszczek; daughters Tanya Albert and Christine Monroe.
Mae is survived by Mark Piszczek and Vanessa Blakeslee, Ann (Charlie) Nabers, Valerie Piszczek, Stewart Albert, Malcolm Monroe, and 22 grandchildren.
Mae was born in Brooklyn, New York and moved to Attleboro, Massachusetts in 1937 with her family. She graduated from Attleboro High School in 1947. She was active in many school activities and lettered in girl's basketball, a sport of which she remained a lifelong fan. During WWII she was a member of the Massachusetts Civil Air Patrol, trained to keep her eyes to the sky and identify any enemy aircraft that might invade US airspace. She studied art and drafting at the Rhode Island School of Design. Later, she was employed a draftsperson by both the Swank Jewelry Company and The Foxboro Company.
In the early 1950s, as the US Space Program was growing, Mae accepted a job offer from the RCA Service Company as a Technical Illustrator at Patrick Air Force Base. She then relocated to a rather undeveloped Brevard County where she met her soon-to-be husband of over sixty years, John (Jack) Piszczek. In 1957 they moved to Melbourne Village, where they raised five children and remained in the same home for 66 years. After retiring from RCA, Mae worked for the Brevard County Summer Fine Arts Program, teaching stagecraft to high school students during the 80s and 90s.
Mae not only enthusiastically supported her own children's endeavors in art and music, she served as a Melbourne High School band parent and chaperone for almost 10 years where she gave love, support and inspiration to a generation of music students.
Mae was adventurous and loved to organize family camping trips around the state. She and Jack loved sailing the Indian River and canoeing Florida's many wild waterways. They also spent a week primitive camping on a tiny island off the coast of Belize. She and Jack traveled abroad to Europe, narrow boating in England and touring the wine country in France.
Mae's outgoing and creative qualities kept her involved in the community. She was active in the Indian River Players (now MCT) and worked for years in front of and behind the curtain, designing and building sets for countless productions. She also chaired fund raising activities to support the theatre through the Theater's Guild. She loved the arts of all kinds and was a lifelong supporter of the Brevard Symphony Orchestra and Melbourne Civic Theatre. Mae believed that in order for the arts to thrive in our community, we should not only financially support local arts organizations, but participate in their activities as well.
A memorial service will be held at 2 pm February 24th at Holy Trinity Episcopal Church in Melbourne, Florida.
The family wishes to thank the beloved caregivers at Ginny's Place in Viera. Their loving care for Mae was beyond measure.

8 entries.
Mae was an extraordinary woman ahead of her times. I loved our friendship for 28 years and learned so much from her. She will be missed by many especially those in the performing arts community, including the the theater, museum, symphony and chamber music society. It was a pleasure to have been her friend and been included in her family all these years. Sharon Perry
She was a wonderful mother for me and was a part of saving my life. What a wonderful woman she was who leaves a legacy of some amazing kids in her family and then the extended family. A stadium would not be big enough to hold all the people whose lives she impacted. She calls us all her "kids." Love
Mae was an influence in my life for over 50 years. At age 12 I joined her at Indian River Players helping paint sets and running props for shows. Cannot express here how much she meant to me. Missing her.
I will always admire your dedication to support our local theatre. It was always a bright moment in my day to see you.
Mae was one of the first to welcome into Melbourne Civic Theatre when at the Henager Building my first set for A Funny Thing Happened on the Way to the Forum. She has always been a staple in our seats catching every show. Always loved seeing her and will miss her.
Top of the Hill Gang all together again. Sending you wishes for peace and comfort. Nancy
Loving memories of Mae through IRP, MCT, Theatre Guild and many fundraising events. We always will think of her as she shared her talent, skills, love, energy and intelligence with family, friends and patrons of the arts.
A truly outstanding lady. We were privileged to know and love her. our hearts go out to the family!